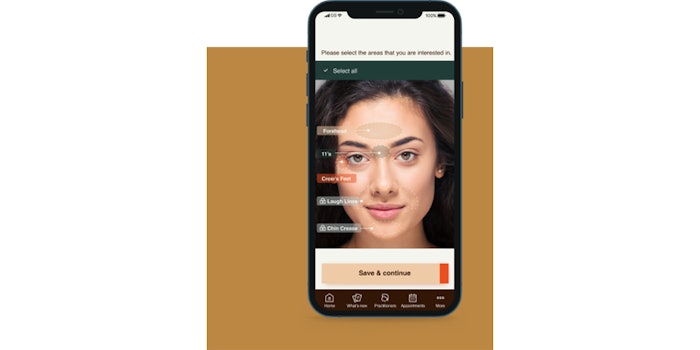 Courtesy of Appiell
Appiell has announced results of its pilot study showcasing the efficiency and functionality of its artificial intelligence (AI) platform.
Appiell's platform includes an artificial intelligence-driven engine that uses proprietary validated scales for various facial areas, each covering all Fitzpatrick skin types, as well as both genders. The process of development included feeding the engine thousands of clinical grade images that were scored by pana el of medical professionals using Appiell's proprietary scales.
The multi-site pilot study, which included 71 subjects with moderate to severe glabellar lines, was performed to validate the AI engine's objectivity, consistency and accuracy for patient assessment both in daily clinical practice, as well as for conducting clinical trials in aesthetics.
Each patient received a single treatment cycle of an approved neuromodulator comprising five injection sites in the forehead glabellar muscles. The study's assessments were based on Appiell's validated facial wrinkle scale. The study showed that the platform detected rhytids and fine lines more efficiently than physicians (100% for the platform and 67% for the physicians).
The platform includes a consumer-facing app that offers instant skin assessments as well as information on related treatment options. The company also offers a comprehensive patient management system for practitioners and product companies that can be used in clinical practice as well as for conducting clinical trials.
"I was excited to evaluate this novel artificial intelligence platform, and I believe that Appiell has developed a unique technology that enhances physicians' capabilities," said Dr. Steve Yoelin, one of the study's principal investigators. "This platform has the potential to significantly improve diagnoses and help expand the aesthetics market by engaging new patients, who will be better informed about their conditions and available treatment options. It also has the potential to improve clinics' ability to improve patient outcomes."
The Appiell platform is available for download on Apple Store and Google Play.
More details of Appiell's AI platform and the results of this pilot study will be presented at the 2022 Annual Meeting of American Academy of Dermatology and The Aesthetic Meeting 2022.