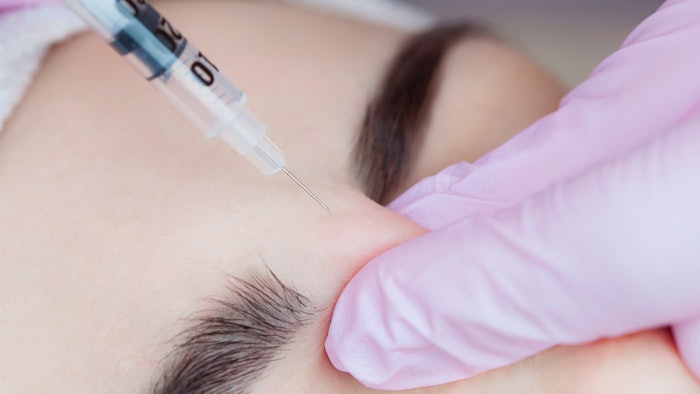 Evolus enrolled its first patient in a clinical study evaluating an "extra-strength" dose for extended duration of Jeuveau (prabotulinumtoxinA-xvfs). Jeuveau is the first neurotoxin product dedicated exclusively to aesthetics.
The "Extra-Strength" Glabellar Line Study is a multicenter, double blind, randomized trial that will follow 150 patients for up to 12 months. The study will include two active controls—the currently approved 20 units of Jeuveau and 20 units of Botox Cosmetic—which will be compared to 40 units of Jeuveau. Five study sites have been selected to participate. Evolus anticipates completing the study in the first half of 2023.
Related: [PrabotulinumtoxinA] Two Studies Confirm Safety of Repeated Treatments
"Enrolling the first patient in the 'extra-strength' trial marks an important milestone for Evolus—we are now one step closer to the possibility of fulfilling an unmet need in the aesthetic neurotoxin segment," said David Moatazedi, president and CEO, Evolus. "While many of our customers believe the original strength, 20-unit dose of Jeuveau will comprise a majority of their use, clinicians have voiced the desire for an 'extra-strength' dose option as well. As a cash pay, aesthetics-only company, Evolus is uniquely positioned to capitalize on this opportunity and meet the needs of our customers."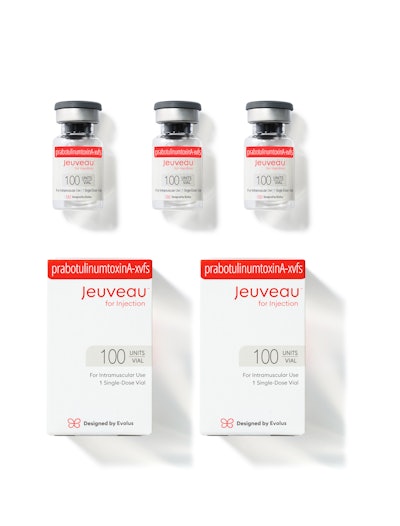 Jeuveau is used for the temporary improvement in the appearance of moderate to severe vertical glabellar lines between the eyebrows seen at maximum frown in adults below 65 years of age. A head-to-head pivotal study versus Botox Cosmetic evaluated the safety and efficacy of Jeuveau, enrolling more than 2,100 patients as part of Evolus' TRANSPARENCY clinical development program. The product is approved for sale in the United States under the brand name Jeuveau and in Canada under the brand name Nuceiva. The company plans to launch Nuceiva in Europe in the second half of 2022.