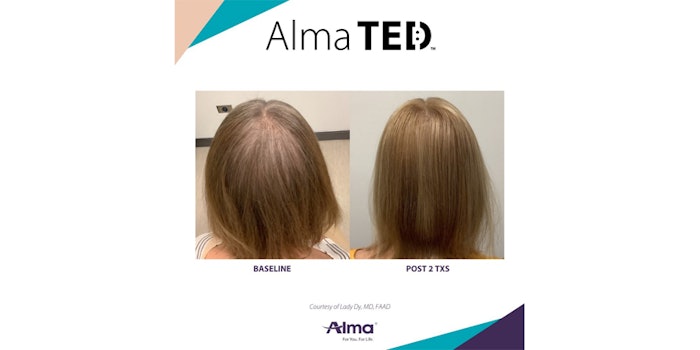 Photo courtesy of Lady Dy, MD, FAAD
Alma, provider of energy-based devices and aesthetic solutions, has announced the commercial launch of two additions to its U.S. portfolio of products: Alma TED for the treatment of hair loss and CBD+ Professional Skin Care.
Alma TED is an ultrasound-based system with a propriety tip engineered with Impact Delivery that offers a noninvasive, nontraumatic option to address hair loss concerns.
Lady Dy, MD, a dermatologist at the Dy Dermatology Center in Glenview, Illinois, who treats more than 300 hair loss patients a month, has incorporated Alma TED into many of her treatment plans because her Alma TED patients are showing higher compliance and satisfaction.
"Alma TED is not only a comfortable treatment, but my patients are noticing results as early as three weeks. Patients find the treatment soothing and enjoyable, which is a huge breakthrough for this treatment category," said Dr. Dy.
The CBD+ Professional Skin Care line consists of 10 products. It combines the scientific benefits of full-spectrum CBD, shown to visibly reduce redness and calm the appearance of stressed skin.