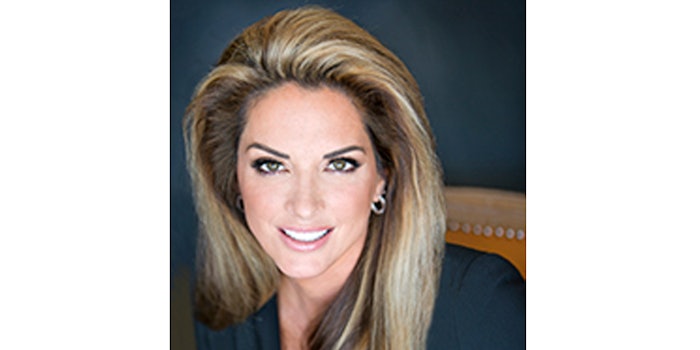 Courtesy of The Aesthetic Society
The Aesthetic Society has elected Jennifer Walden, MD, as its new president. Dr. Walden is the first female president, and is tasked with advancing The Aesthetic Society's global relationships, as well as its diversity and inclusion.
"I am looking forward to serving The Aesthetic Society as its first female president. Born in 1971, I believe it was Title IX that set the stage for me as a young girl. I was able to play sports like the boys did and developed an appreciation for competition, teamwork, victory and defeat—with all the lessons learned therein," said Dr. Walden. "This year I would like to honor the 55th anniversary of The Aesthetic Society, and the 50th anniversary of Title IX that leveled the playing field in the classroom and for myself and many other women. The face of plastic surgery is changing— nearly 54% of American medical students are women, and I look forward to preserving its culture of meritocracy while inspiring others who may think they don't have access. Becoming the first female president is a fantastic achievement, but what matters most is that I am a board-certified aesthetic surgeon who will work to advance The Aesthetic Society into the future."
Dr. Walden is a plastic surgeon certified by the American Board of Plastic Surgery. She founded her business Walden Cosmetic Surgery & Laser Center and operates in her own fully accredited operating suite. She has a full-scale cosmetic surgery practice and two medical spas in Austin (The MedSpa Austin in Westlake and The MedSpa at NW Hills), as well as a medical spa in New York City's Midtown (Skintology MedSpa by Dr. Jennifer Walden), with another location opening in Tribeca this summer.
Dr. Walden has been an active member of The Aesthetic Society for 15 years and has served on the executive committee and as commissioner of the Communications Commission.
Other newly named Aesthetic Society officers include:
President-Elect: Melinda J. Haws, MD, of Nashville has been a member of the Society since 2006. She is also a member of the American Society of Plastic Surgeons and a fellow of the American College of Surgeons. Dr. Haws established The Plastic Surgery Center of Nashville with Mary Gingrass, MD, in 2002. She is a member of the medical staff at St. Thomas Midtown Hospital. During her tenure with The Aesthetic Society, Dr. Haws has most recently served on critical task forces including chair of the Breast Implant Illness Task Force and co-chair of the FDA Breast Implant Hearing Task Force, and the Communications Commission.
Vice President: Kiya Movassaghi, MD, FACS, has been a member of the Society since 2006. His practice focuses on cosmetic and reconstructive plastic surgery. A 1995 graduate of Harvard Medical School, Dr. Movassaghi completed a three-year plastic surgery residency at the Harvard Combined Plastic Surgery Program. Prior to that training, he completed a residency in general surgery at Beth Israel Deaconess Medical Center at Harvard Medical School. He also received his DMD at Harvard Dental School, where he graduated magna cum laude. He followed this degree with a residency in maxillofacial surgery at Massachusetts General Hospital. Dr. Movassaghi is a clinical assistant professor of Plastic Surgery at Oregon Health & Science University's School of Medicine in Portland. He is well versed in the latest techniques including Laser and Endoscopic Procedures with minimal scars and has authored numerous publications in leading scientific and plastic surgery journals.
Treasurer: Tracy Pfeifer, MD, is a double board-certified plastic surgeon specializing in aesthetic plastic surgery. She opened her Upper East Side Park Avenue practice, now on 5th Avenue, in 1999, fulfilling her dream of a boutique aesthetic surgery practice delivering personalized care and exceptional results, in order to help women feel their very best. Dr. Pfeifer was thrilled to open her second office location in the Hamptons in 2011.
Secretary: Jamil Ahmad, MD, is a plastic surgeon and the director of research and education at The Plastic Surgery Clinic. Dr. Ahmad is known for his natural results after cosmetic surgery and is sought after for his expertise in rhinoplasty, facial rejuvenation procedures, breast surgery, abdominoplasty, body contouring after weight loss, liposuction, fat transfer and revisional aesthetic surgery. Dr. Ahmad is a fellow of the Royal College of Surgeons of Canada and enjoys privileges at the University Health Network, as well as Women's College Hospital and Mount Sinai Hospital. Dr. Ahmad is the only plastic surgeon in Canada to complete his plastic surgery residency training at the Department of Plastic Surgery, University of Texas Southwestern Medical Center in Dallas. In addition, he completed a fellowship in breast reconstruction at the Division of Plastic and Reconstructive Surgery at the University of Toronto.
---
The Aesthetic Surgery Education and Research Foundation (ASERF) also announced the election of a new president. It has elected Bruce Van Natta, MD, a plastic surgeon practicing in Indianapolis.
The ASERF is the philanthropic research and education arm of The Aesthetic Society.
As President of ASERF, Dr. Van Natta plans to lead the foundation in its pursuit to advance aesthetic surgery through research and education.  
Board certified by the American Board of Plastic Surgery, Dr. Bruce Van Natta has been a practicing plastic surgeon in Indianapolis for over 33 years. He is a clinical assistant professor in the plastic surgery department of Indiana University Medical Center, fellow of the American College of Surgeons, medical advisor for Sientra and was an active investigator in all clinical trials leading up to the re-release of silicone gel breast implants.
Dr. Van Natta has been a member of The Aesthetic Society since 1998 and has served on the ASERF Board of Directors and numerous committees.
"I am both honored and excited to help guide ASERF in its ongoing mission to promote cutting- edge advances in aesthetic medicine and surgery," said Dr. Van Natta, "ASERF has funded research that directly impacts our work as surgeons to optimize patient outcomes and promote safety. Research funded by ASERF investigating topics like Breast Implant Illness are answering critical questions for both surgeons and patients with peer-reviewed data. I encourage all Aesthetic Society members to give back to ASERF with donations to assure we can continue this important work."
Other newly named ASERF officers include:
President-Elect: Caroline A. Glicksman, MD, MSJ, is a board-certified plastic surgeon in New Jersey and has been in private practice in Sea Girt since 1991. After completing her general surgery training at Mount Sinai Hospital in NYC, she completed her plastic surgery residency at New York Hospital-Cornell Medical Center and Memorial Sloan-Kettering Hospital in 1991. She then went on to complete an additional fellowship in cosmetic surgery at the prestigious Massachusetts General Hospital in Boston. In 2020, she received her Master's in Pharmaceutical and Medical Device Law from Seton Hall Law School.
Vice President: Onelio Garcia Jr., MD, is a board-certified plastic surgeon who began a private practice in South Florida in 1985. He is considered a surgeon of distinction and has served the plastic surgery community for the past 30 years. Dr. Garcia also participates as part of the clinical faculty in the Division of Plastic Surgery at the University of Miami helping to train the residents in aesthetic surgery. He has published numerous articles on body contouring surgery, breast surgery and facial aesthetic surgery in the plastic surgery literature. In addition, he has authored eight chapters in body contouring and breast surgery in well-respected textbooks. He lectures frequently as invited faculty at national and international plastic surgery conferences.
Treasurer: Patricia A. McGuire, MD, is a board-certified plastic surgeon and a native St. Louisan. She attended the University of Missouri-Kansas City for undergraduate and medical school before doing a general surgery residency at Jewish Hospital- Washington University and plastic surgery at St. Louis University. Dr. McGuire specializes in breast surgery and body contouring. She lectures nationally and internationally on cosmetic breast surgery focusing on safety and has numerous publications in plastic surgery journals. Dr. McGuire is a principal investigator for the ASERF sponsored "Systemic Symptoms Biospecimen Analysis Study" the first prospective, blinded study, with control groups looking at symptoms that develop in women with implants.
Secretary: Gabriele C. Miotto, MD, MEd, is an internationally recognized plastic surgeon specializing in aesthetic surgery, especially of the face, eyes, nose, and breast. She is also an expert injector of facial fillers, neuromodulators, and performs fat grafting injections for facial rejuvenation. She sees patients at her private practice in Atlanta – ME Plastic Surgery. She is fellowship-trained in aesthetic and oculoplastic (eyelid) surgery and certified by the Georgia Composite Medical Board as well as a member of the International Society of Aesthetic Plastic Surgery and Brazilian Society of Plastic Surgery. She is a "Membro Titular" of the Brazilian Society of Plastic Surgery since 2009. She is also certified by the National Board of Medical Examiners and earned a Masters' degree in Education with an emphasis on health profession education from the University of Illinois at Urbana-Champaign.