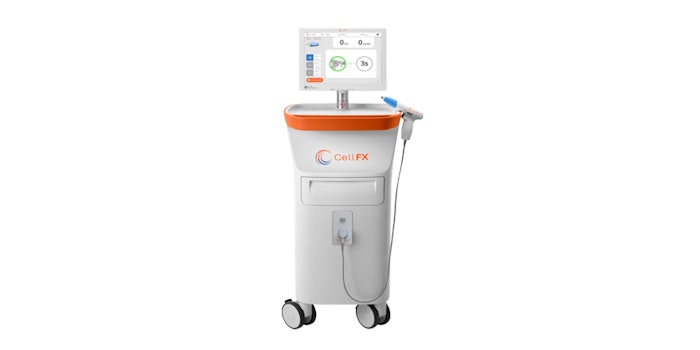 Courtesy of Pulse Biosciences
Pulse Biosciences CellFX System was featured in an oral presentation and a poster presentation, both highlighting the technology's efficacy for lesion clearance, at the 2022 American Society for Laser Medicine and Surgery (ASLMS) Annual Meeting April 27-30, 2022 in San Diego, California.
Pulse Biosciences is a novel bioelectric medicine company commercializing the CellFX System powered by Nano-Pulse Stimulation (NPS) technology.  
In a study for the treatment of sebaceous hyperplasia (SH), 12-month data demonstrated durable efficacy for the clearance of SH lesions. Investigators reported that 73% of lesions had maintained or improved clearance, with good cosmesis.
"It is impressive to see the long-term response of lesion clearance achieved in this study of NPS technology for Sebaceous Hyperplasia," said Girish Munavalli, MD, medical director and founder of Dermatology, Laser & Vein Specialists of the Carolinas, Charlotte, North Carolina, and study investigator. "These results demonstrate a high degree of efficacy and durable results that clearly sets this cellular-specific procedure apart from other treatment options used to remove lesions."
The poster abstract on Nano-Pulse Stimulation showed the positive results of clearing refractory focal epithelial hyperplasia (FEH) on the lips through a NPS procedure. The patient had failed previous treatments, including topical creams such as imiquimod and tretinoin, candida injections and liquid nitrogen therapy. FEH is a disfiguring skin condition that presents as multiple discrete papules on the lips and is caused by a specific human papilloma virus (HPV) infection in the mouth that can be difficult to treat and is prone to recurrence.