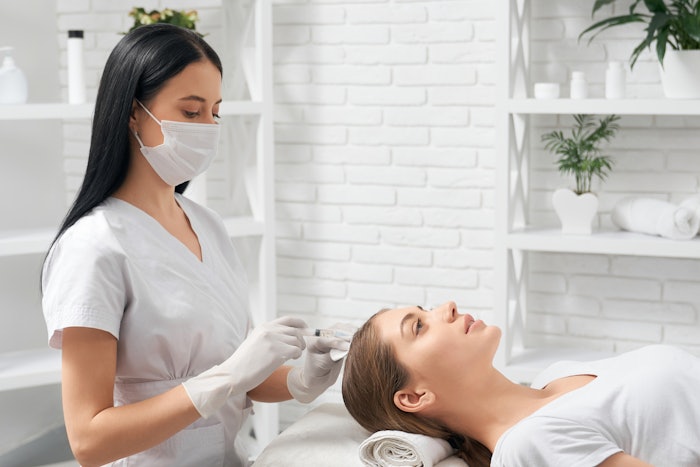 According to a new member survey conducted by the International Society of Hair Restoration Surgery (ISHRS), 68% of members reported performing an average of one procedure per patient in 2021 to achieve the desired hair restoration result.
Previously, ISHRS members estimated an average of 3.4 procedures in 2019 and 5 procedures in 2016 were needed to achieve the desired results.
The survey reported that ISHRS members treated 1,592,588 nonsurgical patients in 2021 (a 14% increase from 2019), and treated 628,604 surgical patients (an 8% decrease from 2019). 
"Our survey shows that for one-fourth of new patients seeking help for hair loss last year, becoming more aware of how they look during Zoom meetings impacted their decision," said Nilofer Farjo, MBChB, FISHRS, president of the ISHRS. "For those who opted for hair restoration surgery while working from home, the ability to heal at home rather than going into the workplace likely made this decision even more appealing since patients could hide signs of surgery easier by video than in person."
The ISHRS 2022 Practice Census survey also notes:
The total market size for hair restoration surgery in 2021 was $4.5 billion 
More than half of both male and female surgical patients worldwide fell between the ages of 30 to 49 years old, 57.2% and 54.8% respectively
In 2021, ISHRS members treated a higher percentage of men with surgical hair restoration procedures (87.3%) than women (12.7%)
Body hair transplantation remains popular

Among men, 13% of procedures targeted non-scalp areas of the body, of which beards/moustaches accounted for 4% of procedures
Among women, 17% of procedures targeted non-scalp areas of the body, of which eyebrows accounted for 11% of procedures

51% of ISHRS members reported there are Black Market hair transplant clinics in their cities

5.4% of hair restoration patients sought treatment to repair previous surgery from another physician/black market hair transplant in 2021, up from 4.2% in 2019
16% of ISHRS members changed their pricing structure as a result of the Black Market