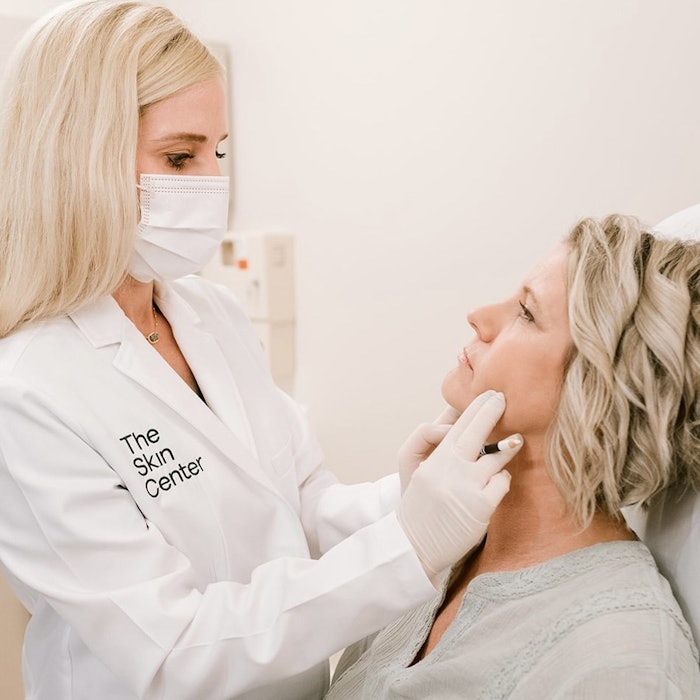 The Skin Center, a Pittsburgh-based med spa, has revealed its most in-demand filler treatments and techniques, highlighting the evolving trends and how patients' skin care concerns follow suit. Rachel Gill, a nurse injector at The Skin Center, detailed how the newly trending tips are used at The Skin Center.
Gill said in a press release, "The biggest shift we've seen is the desire to treat multiple areas of the face, which requires more than one syringe and type of filler."
Related: Dermatologists Have Strongest Influence on Consumer Skin Care Decisions
Hydrating and plumping lip fillers—Lip fillers are the most popular filler treatments used by patients in their 30s, with The Skin Center's lip filler patients having increased by 30% in the last year. "To add soft, subtle volume to lips, we use lighter fillers. A small amount of filler delivers beautiful, natural results," Gill said.
Knife-free liquid facelift—The Skin Center's greatest percentage of filler patients come from Baby boomers, with most of them concerned with eliminating wrinkles around their nose and mouth and sagging around their cheeks. Gill said, "To treat these concerns, we inject a denser filler along the cheekbone, which subtly lifts the midface, reduces the depth of folds and gives a more youthful appearance. This often requires more than one syringe of filler."
Adding definition to the jawline—Filler injections can be used to define a patient's jawline. The appearance of jowls in certain patients can even be minimized by making the jawline sharper.
Contouring the face—In addition to adding definition to the jawline, another popular request among The Skin Center's patients is defining other areas of the face, such as the cheekbones or nose. "Carefully injected filler in these areas can help restore balance and symmetry to the face," Gill said.
Reduce the need to wear makeup—One major filler trend with universal appeal is using fillers to reduce the need to wear makeup as often. The Skin Center's most popular fillers are made of hyaluronic acid, which is produced by our bodies to attract water and keep our skin hydrated. However, the body's production of this substance decreases with age. Fillers help to firm up the skin and keep it hydrated, resulting in a natural glow that doesn't require makeup.
Greg Sanker, CEO of the Skin Center, has noticed the rising demand across the board for dermal fillers, saying, "Our practice has seen an increase in dermal filler patients of all ages, from women in their 20s to 60s and beyond. Our team of aesthetic medical experts administered over 4,800 filler treatments in 2021 and we're projected to do even more this year."