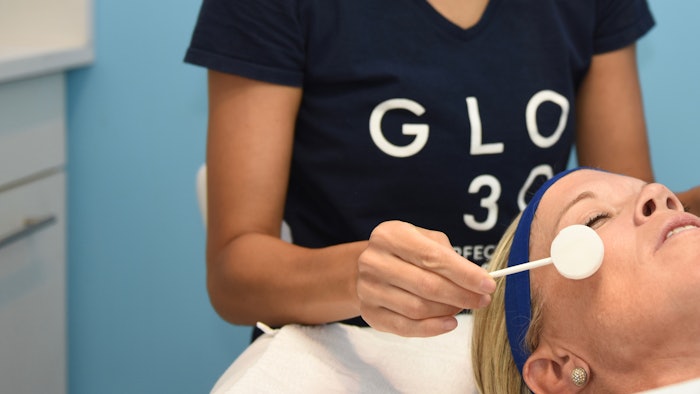 Photo courtesy of GLO30
GLO30, the subscription-based skin care studio, announced its plans to grow to 1,000 locations over the next 10 years via the brand's new franchise offering. 
The company now has three corporate-owned locations in the Washington D.C. area and two more set to open in Reston, VA and the Amazon Headquarters in Arlington, VA in late 2023. GLO30 offers a streamlined menu of skin treatments from facials to fillers within its monthly membership offering. 
"For the past decade, we've seen a growing demand from both consumers and investors to bring our highly-coveted skin care studios to markets across the country," said GLO30 founder, Dr. Arleen Lamba. "Franchising gives us the opportunity to accelerate our national growth by partnering with owners who share our passion for the concept and are looking to move into the rapidly expanding new category we created."
Related: 30 Minute Facial Brand Glowbar Receives $10 Million Investment
The membership-based facial studio is an accessible and approachable middle ground for day spas and more invasive medical clinics or medspas. The company provides routine, customized, non-invasive skin care treatments every 30 days. GLO30's signature facials offer monthly maintenance with more advanced offerings to deliver specific results including the signature NanoGLO, MicroInfusion Facial, Neuromodulators and laser facials. 
The company has partnered with franchise development firm, Fransmart, to launch a sales and marketing strategy to aid in GLO30's national expansion. The ideal GLO30 franchisee has prior franchise experience and interest in bringing multiple studio locations to their local market. 
Franchisees benefit from the brand's front and back-end technology, which streamlines processes like onboarding, training, sales and the customer interface. Franchise members also will have access to expert training and ongoing operational support from GLO30's founders.