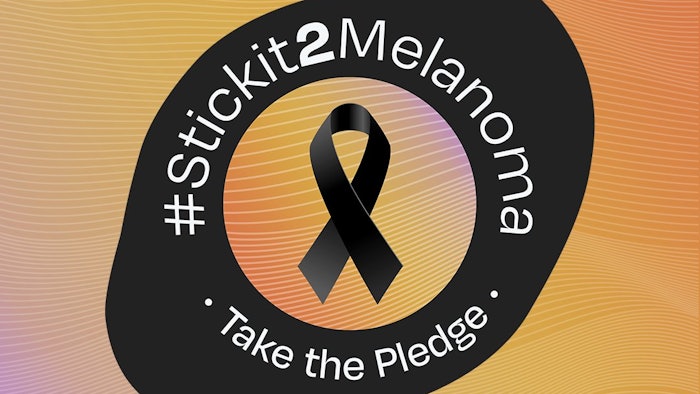 Photo courtesy of DermTech
DermTech announced the release of new survey data in conjuction with the launch of its thrid annual #Stickit2Melanoma campaign in honor of Melanoma and Skin Cancer Awareness Month in May. Started in 2021, the campaign aims to raise melanoma awareness and promote the importance of scheduling regular skin exams. 
The national survey gathered responses from more than 500 consumers, with only 22% reporting a previous diagnosis of melanoma. According to the report, 74% of respondents have not received a full skin exam within the past 12 months, despite 48.9% admitting they currently have, or are not sure if they have, new or changing moles. 
Around 55% of participants stated that they have either never visited a dermatologist or have not visited a dermatologist in more than two years. Only 23.48% of respondents also said that they were prompted to visit a dermatologist for a skin cancer screening. 
Related: DermTech Melanoma Test Now Covering 9M Additional Lives with Veteran's Health Association
"Too many people are not scheduling skin exams, despite the fact that early melanoma detection is key for positive treatment outcomes," said Todd Wood, Chief Commercial Officer of DermTech. "With this top-of-mind, we're proud to launch our third annual #Stickit2Melanoma campaign and continue to raise awareness of the dangers of melanoma, a potentially life-threatening disease, and encourage people to schedule skin exams with their doctors today."
The #Stickit2Melanoma campaign officially began on May 1, 2023, known as Melanoma Monday. For every #Stickit2Melanoma pledge to schedule a skin exam, DermTech will make a $5 donation to its non-profit partner organizations, all of which, along with DermTech, are dedicated to helping end deaths from melanoma. The campaign will support events, educational content and programs throughout the year. Since 2021, DermTech has donated $500,000 and has committed to donating up to $1 million through 2025.
DermTech is also distributing pledge stickers to doctors' offices across the country, allowing patients to take the skin exam pledge in-person, along with UV bracelets that change color when the wearer should consider getting out of the sun.