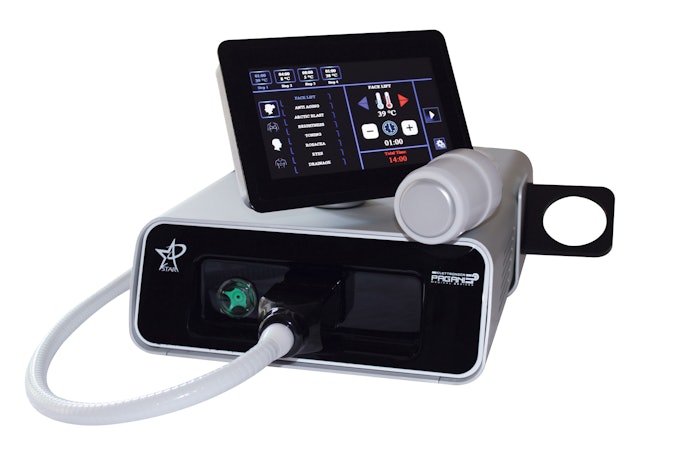 Courtesy of Skin Science Solutions
Spa equipment distributor Skin Science Solutions and Elettronica Pagani SRL have launched STAR Face, an antiaging device that treats the face, neck and décolleté. 
STAR Face is a noninvasive, targeted approach to skin rejuvenation, using a thermal shock wand that delivers heat and cold to the skin at varying times, temperatures and sequences. 
The benefits of this approach include:
Heat reinvigorates dormant collagen and elastin while stimulating blood flow to the treatment area.
Cold reduces inflammation, and lifts and reinforces the muscle/skin relationship, which weakens with age.
Cold induces vasodilation. 
The hot/cold/hot cycle oxygenates and aspirates the tissue.
Results are visible after one  treatment, with guests reporting a reduction in inflammation and the look of fine lines, plus improved skin laxity, tone and texture. 
Therapists can choose from seven facial options: antiaging, advanced aging, rosacea, acne, red carpet, drainage and toning, plus options for the neck and décolleté: double chin, tissue stimulation, wrinkles, tighten/sculpt and drainage
"We developed STAR Face for several reasons: (1) there are a large number of esthetic professionals who want to focus on the face/neck/décolleté; (2) it's a terrific stand-alone device and it can be used as part of a process with the ever-popular hydradermabrasion procedures and/or light therapy; (3) with an average treatment price in excess of $175 and a $1.50 consumable, STAR Face delivers a rapid return on investment," said Stan Kapica, president of Skin Science Solutions.