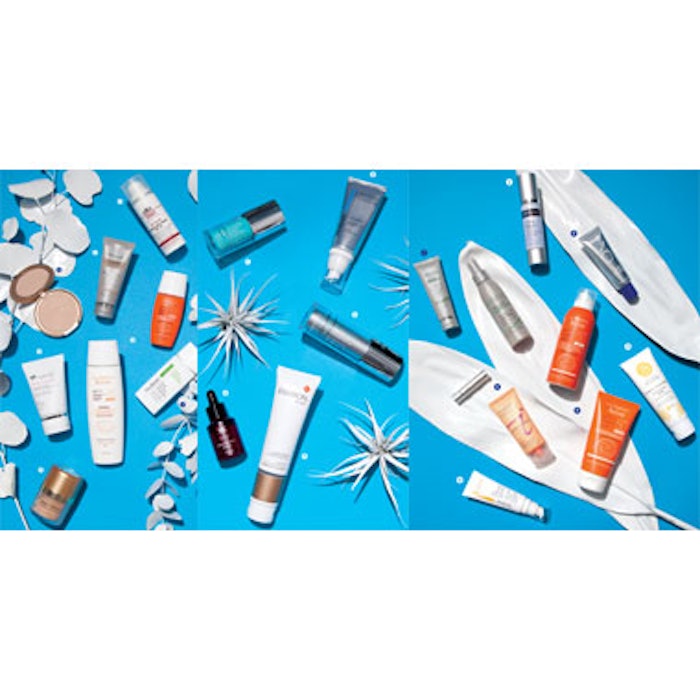 Broad-spectrum su protection products are one of the most effective tools available for patients who want to maintain the youthful health of their skin and ward off the signs of aging. "I always recommend daily sunscreen use for everyone. It's as important as brushing your teeth or wearing a seatbelt," says Brian Matthys, DO, medical director of Sunflower Dermatology and Medical Spa in Riverside, Missouri.
He finds that the key to increasing compliance with daily sun protection use is helping patients find products that they love and will be comfortable wearing daily. "My big thing is the aesthetics of the products," says Dr. Matthys. "I want my patients to find a product that they love to wear. If it feels good aesthetically on the skin, doesn't sting the eyes or have a strong scent, they will wear it routinely."
In the past 10 years, sun protection formulations have become both more effective and more elegant thanks to new ingredients. "Titanium dioxide and zinc oxide are the single two best ingredients for a broad-spectrum sunblock," says S. Manjula Jegasothy, MD, CEO and founder of the Miami Skin Institute in Coral Gables, Florida, and associate professor of dermatology at the University of Miami Miller School of Medicine. "It's not new science, but it still applies, and the better formulations now have the micronized zinc and titanium, which means they are split into microscopic particles so they don't leave that weird, white residue on the skin."
To help his patients find the right sun protection products, Dr. Matthys asks a series of questions. "I ask if they prefer a tinted or non-tinted product—a lot of women prefer tinted because they can use it as a BB or CC cream," he says. "I ask how much time they spend outdoors, if they prefer a spray-on or cream formulation and then it depends on their skin condition. If a patient has melasma, rosacea or acne, we want to use a lighter product that has zinc oxide or titanium dioxide rather than an organic, chemical absorbing agent."
Protecting Compromised Skin
Patients struggling with acne and rosacea often have difficulty finding a sun block that will protect rather than irritate their sensitive skin. "For acne, the best product I've found is actually an over-the-counter one called Neutrogena Ultra Sheer Dry-Touch—it doesn't have any drying agents, but it is less greasy than most formulations; some people also like the lightweight EltaMD UV Clear," says Dr. Jegasothy. "It is very difficult to find a sunscreen that doesn't break out acne-prone patients. This is an unmet need."
Rosacea patients have more options. "All of the physician-dispensed products that are indicated for sensitive skin and contain sunscreen are appropriate for rosacea patients, but every single rosacea patient is highly individual, so it becomes a trial-and-error process," says Dr. Jegasothy. "I tell all my rosacea patients, 'You're probably going to spend a good deal of money before you find the one that really suits your skin and doesn't make you irritated.'"
To reduce the cost, both Dr. Jegasothy and Dr. Matthys provide samples of the brands they carry. "I sell skincare products and I provide sampling, especially for my sensitive skin patients so they can try before they buy, and I advocate that," says Dr. Jegasothy. "But it's impossible to carry samples of every single brand that's out there, so in some cases, patients will have to buy before they try."
Special Care for Aging Skin
While daily sun protection helps patients maintain their skin health and prolong the outcomes of your aesthetic procedures, those who enter your office with existing photodamage benefit from products that both protect against damage and treat existing concerns. Dr. Matthys looks for products with antioxidant ingredients, such as niacinamide, vitamin C, vitamin E, phloretin and green tea. But he cautions that, due to a lack of labeling regulations, it is often difficult to ascertain whether the percentage of antioxidants in sunscreen formulations is high enough to be effective. "This is why I often recommend people use an antioxidant product in addition to their sun protection. It's not uncommon for women to use multiple products in the morning—a moisturizer, a sun protection product and their makeup," he says. "It's not as easy to get men to use multiple products. For my male patients who cite photodamage as a concern based on questionnaires, I will recommend using a vitamin C/vitamin E product in the morning under their sunscreen, or an antioxidant product at night and then sun protection in the morning."
Photography by Armando Sanchez.
[pagebreak]
Dr. Jegasothy also looks for products that include new ingredients—such as growth factors and DNA repair proteins—to help repair existing damage. "When people have photodamaged skin or wrinkles, that means their skin cells are suffering from some sort of DNA damage due to chronic UV radiation," she says. "So the latest thing in treating them—in addition to sunscreen and vitamin C—is growth factors and DNA repair proteins that can help repair some of the damage."
With so many high quality, physician-dispensed sun protection products on the market, aesthetic providers can better serve their patients by stocking a few, well-proven brands. "You have to touch and feel a lot of products in order to find which ones feel the best, and then you create a system to recommend them," says Dr. Matthys. "We recommend a sunscreen to every patient, no matter how young or old they are. If they can buy the product right where they are, there is a higher likelihood that they will actually use it. I feel passionately that if you find products that are good, that your patients and staff love, you're doing a disservice if you don't recommend them and have them available in the office."
If you do not currently carry sun protection products or would like to broaden your retail offerings, you can review some the top-selling brands on the market on the following pages. The products are presented in three groups: protection for sensitive skin, products formulated specifically for aging, photodamaged skin and daily use sunscreens for all skin types.
Inga Hansen is the executive editor of MedEsthetics.
Photography by Armando Sanchez.
[pagebreak]
Protection for Sensitive Skin
1. EltaMD UV Clear Broad-Spectrum SPF 46 helps calm and protect sensitive skin prone to breakouts, rosacea and discoloration. Available tinted or untinted, the oil-free formulation features transparent zinc oxide (9%) plus niacinamide, hyaluronic acid and lactic acid to support skin health. 800.633.8872, www.eltamd.com.
2. Eau Thermale Avène Light Hydrating Sunscreen Lotion SPF 50+ and Ultra-Light Hydrating Sunscreen Lotion SPF 50+ offer 100% physical sun blocks (micronized titanium dioxide 4% and zinc oxide 6%), plus Avène Thermal Spring Water and vitamin E to soothe sensitive skin. 866.412.8363, www.aveneusa.com.
3. Sheer Physical Protection SPF 50 from NeoStrata provides broad spectrum protection with physical sunblocks titanium dioxide (7%) and zinc oxide (6%). The ultrafine sunscreen has a virtually invisible tint and includes antiaging gluconolactone and lactobionic acid plus antioxidants.800.225.9411, www.neostratapro.com.
4. Jane Iredale Powder-Me SPF is a dry SPF 30 sunscreen that can be used on the face, body and scalp. The powder contains titanium dioxide (17%) and natural clay to calm and nourish sensitive skin, plus boron nitride to diffuse light. Available in three shades—Golden, Tanned and Translucent. 800.762.1132, www.janeiredale.com.
5. Mybody Protect & Serve Tinted Sun Shield SPF 30 is a lightweight, water-free lotion that features physical sun blocks titanium dioxide and zinc oxide fortified with antioxidant Lycomato (lycopene) to protect sensitive, irritated skin.877.423.1314, www.mybodyskincare.com.
6. Jane Iredale PurePressed Base Mineral Foundation SPF 15 is made from micronized minerals that soothe skin, conceal redness and diffuse the appearance of fine lines and pores. Available in 24 shades. 800.762.1132, www.janeiredale.com.
7. Replenix UltiMATTE Pefection SPF 50+ Tinted Physical Sunscreen from Topix Pharmaceuticals is a combination BB cream and sun block featuring micronized zinc oxide (16.2%), plus ceramide 2 and phospholipids to control oil while gently hydrating skin. 800.445.2595, www.topixpharm.com.
Sun Protection for Aging Skin
1. Developed for aging as well as sensitive skin, NEOCUTIS Journée Bio-restorative Day Cream contains PSP technology—a mix of human growth factors, cytokines and interleukins—plus broad-spectrum UVA/UVB sun protection (micronized zinc oxide and octinoxate) and antioxidants. 919.582.8000, www.neocutis.com.
2. NeoStrataSkin Active Matrix Support SPF 30 utilizes three proven technologies to repair and strengthen aging skin. The sunscreen includes messenger peptides to increase collagen production; NeoGlucosamine and retinol to smooth wrinkles and inhibit tyrosinase; and an antioxidant blend to neutralize free radicals.800.225.9411, www.neostratapro.com.
3. Formulated for aging skin, tinted Micro-Day Broad-Spectrum Sunscreen SPF 30 from NEOCUTIS features micronized zinc oxide, octinoxate and a blend of antioxidants, plus matrikine-based MPC technology. Matrikines, small peptides similar to growth factors, help promote collagen, elastin and hyaluronic acid synthesis to diminish wrinkles and boost skin firmness.919.582.8000, www.neocutis.com.
4. Part of the company's Sun Range, Environ Sunscreen SPF 25 features micronized titanium dioxide for broad-spectrum sun protection plus antioxidant vitamins, antiaging peptides and a unique phyto-complex that helps protect skin against environmental stressors. Indicated for the face and body.877.337.6227, www.dermaconcepts.com.
Photography by Armando Sanchez.
[pagebreak]
5. Phytoceuticals antiaging Selenium in C Serum is formulated for use with the company's broad-spectrum sunscreens. It combines antioxidants selenium, vitamin C and alpha tocopherol with retinol and vitamin B12 to promote DNA repair and facilitate collagen production. 201.791.2255, www.myphyto-c.us.
Daily Use for All Skin Types
1. Skinprint Ultra Sheer SPF 20 Broad Spectrum Sunscreen hydrates and shields skin with a combination of Parsol HS and Parsol 1789 for UVA and UVB protection; bisabolol to reduce redness and inflammation; and pure vegetable-grade glycerin to hydrate.800.234.1308, www.skinprint.com.
2. Oclipse Smart Tone SPE 50 from ZO Skin Health provides broad-spectrum sun protection in a sheer tinted primer that includes antioxidant protection; fractionated melanin to shield skin from high-energy (HEV) light; and pigment inhibitor tetrahexyldecylascorbate. 888.893.1375, www.zoskinhealth.com.
3. Doctor D. Schwab Umbrella Sunscreen Broad Spectrum SPF 40 from CA Botana includes a natural blend of active botanicals and micronized titanium dioxide (6%) plus octinoxate (7.5%) to protect, hydrate and soothe skin. 800.872.2332, www.ca-botana.com.
4. Eau Thermale Avène Hydrating Sunscreen Lotion SPF 50+ provides broad-spectrum sun protection plus skin hydration. The sheer, lightweight sunscreen features vitamin E for antioxidant protection with Avène Thermal Spring Water and plant based glycerin for long-lasting hydration. Available in a topical cream or ultra-light spray-on formulation. 866.412.8363, www.aveneusa.com.
5. NeoStrata Enlighten Skin Brightener SPF 25 is a triple-action moisturizer, skin brightener and broad-spectrum sunscreen. The company's patented NeoGlucosamine gently exfoliates to break up pigment, while skin brighteners butyl resorcinol and SabiWhite discourage new spots from forming.800.225.9411, www.neostratapro.com.
6. Jane Iredale reminds us that hands and lips are sensitive to UV exposure as well with its HandDrink Hand Cream SPE 15 and LipDrink SPF 15. HandDrink combines sunscreens with moisturizers and antioxidants. LipDrink contains a base of macadamia nut oil with edible zinc oxide for broad-spectrum protection. 800.762.1132, www.janeiredale.com.
7. Offering pure physical UVA and UVB protection with micronized zinc oxide 12% (spray) or 13.75% (cream), Topix Pharmaceuticals Replenix Sheer Physical Sunscreen SPF 50+ absorbs quickly and dries to a transparent finish. The antioxidant-fortified formulations include green tea polyphenols, resveratrol, vitamin C, emblica and CoQ10. 800.445.2595, www.topixpharm.com.
Photography by Armando Sanchez.