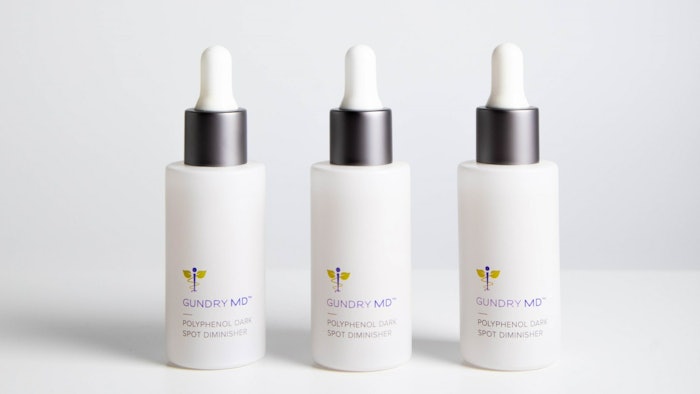 Photo Courtesy of Gundry MD
Gundry MD Polyphenol Dark Spot Diminisher is an advanced serum designed to help combat the visible consequences of sun exposure, such as sun spots, age spots and liver spots. This scientifically advanced formula is specifically tailored to cater to sensitive skin types, offering a practical solution for those in search of skin tone rejuvenation and a return to youthful radiance.
What sets Gundry MD Polyphenol Dark Spot Diminisher apart is its distinctive blend of gentle yet potent ingredients. This unique formulation not only targets and helps reduce the appearance of existing dark spots but also works to combat the emergence of new ones. The secret weapon in this transformative serum is the infusion of polyphenol extracts. Polyphenols act as a protective barrier against the harmful effects of environmental factors, aiding in the restoration of youthful vitality to the skin. With consistent use, this cutting-edge formula works its wonders, gradually unveiling a healthier, more vibrant complexion.
Main Benefits:
Helps reduce the appearance of dark spots
Gives skin a smoother, more even look
Makes skin appear healthier and more vibrant
Mfg. in USA / 90-Day Money Back Guarantee / GMP Certified Facility
Key Ingredients:
Sweetesse Arctic Meadowsweet Extract: Help promote a revitalized and healthier complexion by harnessing the power of polyphenols.
Blueberry Fruit Extract: Enhances skin firmness, tone, and radiance while combating the appearance of oxidative damage through its rich source of resveratrol, a potent polyphenol.
Granpowder Lumière-DP: Helps minimize the look of fine lines and wrinkles and imparts a healthy glow through its infusion of real Diamond Powder.
Superox-C: Provides unparalleled benefits to the skin through its one-of-a-kind Vitamin C levels that are approximately 100 times that of an orange, This powerful ingredient is extracted from the Kakadu plum which has been identified as a superfruit.
Acai Fruit Extract: Nourish your skin and support skin health with antioxidants, essential vitamins (B1, B2, B3, E, and C), and vital Omega-3 fatty acids from acai fruits.
Brightenyl: Supports radiant, even skin by seamlessly collaborating with your skin's natural microflora.