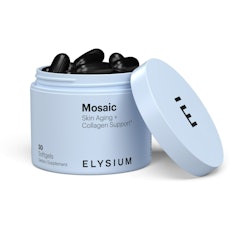 Elysium Health Mosaic Combats Aging from the Inside OutElysium Health Mosaic is a novel, clinically proven daily soft gel for skin aging that strengthens and protects the skin from the inside out. Working throughout the layers of the skin, Mosaic leverages the rapidly growing body of research around a class of phytonutrients known as carotenoids, which combat both internal and external stressors that drive skin aging. Its formulation combines carotenoids with other synergistic phytonutrients and hyaluronic acid to create a foundation for optimal skin health–improving its resilience against stressors, increasing whole-body moisture and reducing visible signs of photoaging.
One of Mosaic's protective effects is maintaining natural levels of collagen. In addition to supporting the internal structure, maintaining proper barrier function is also critical for long-term skin health and appearance, as fewer natural oils, decreased cell renewal and cumulative effects from external stressors lead to increased moisture loss with age. Mosaic increases moisture throughout the body with hyaluronic acid.
"At Elysium, what separates us is that product development always begins by looking at the world through the lens of aging and longevity in partnership with leading scientists," said  Dr. Leonard Guarente, Elysium Health chief scientist and Novartis professor of Biology at MIT. "With Mosaic, we followed this model precisely by working with Dr. Granstein, one of the world's foremost experts in dermatology, to develop a novel, orally available product to combat skin aging. While all Elysium products address aging at the cellular level, in the case of Mosaic, scavenging reactive oxygen species to combat oxidative stress in skin, Mosaic goes beyond this paradigm to provide significant benefits to the function and appearance of the skin. What is evident from the scientific literature is that any effort to impact the aging of our skin should include a solution like Mosaic, which addresses the driving forces at the cellular level from the inside."