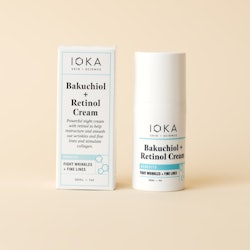 IOKA Skin+Science's Bakuchiol-Retinol Cream is a night-time treatment cream appropriate for all skin types. The cream accelerates cell renewal, helps to improve the appearance of fine lines and evens the skin tone. The formulation includes both bakuchiol and retinol, as well as ursolic acid, niacinamide and sodium hyaluronate. It is free of toxins, emulsifiers, parabens, sulfates and fragrances.
Retinol and bakuchiol are included in liposomes and protected from degradation by the brand's proprietary technology. Packaging is made of recyclable plastic with airless pumps that protect our products from outside contamination.
Key Ingredients:
Niacinamide: Helps to regulate sebum production
Sodium Hyaluronate: Adds to the moisture effect
Retinol: Effective in improving the appearance of fine lines and hyperpigmentation
Bakuchiol: Natural retinol-like alternative that has been clinically demonstrated to reduce hyperpigmentation and skin roughness as efficiently as retinol
Ursolic Acid Liposome: Touted as the new retinol, ursolic acid stimulates the production and restoration of collagen and increases the ceramide content in skin cells.