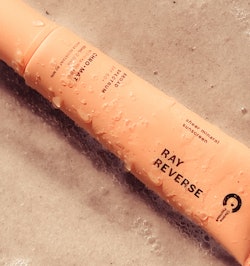 Photo courtesy of Ray Reverse
Ray Reverse is a moisturizing SPF 50 that protects from UVA/UVB and blue light damage while revitalizing skin. The product's skin tone blending formula is non-comedogenic and helps reverse previous damage to the skin. Ray Reverse contains a unique Chroma Peptide that increases collagen and elastin growth and helps boost antioxidant products. The mineral (iron oxide) used for blue light protection has a slight color, but it is not meant to be a foundation. Instead, the product counteracts the typical white, chalky residue left behind by other mineral-based sunscreens and melts into the skin for a subtle glow. 
Key Active Ingredients
12% Zinc Oxide is a broad spectrum, non- irritating, chemical-free shield that protects against 99% of aging UV rays.
 Syniorage is a targeted peptide that helps increase firmness by strengthening cohesion of the skin's upper layers for a refined texture and anti-aging effect.
PrimalHyal 50 is a unique, small hyaluronic acid molecule that allows hydration to absorb below the skin's surface for improved firmness.
Gransil DMAM is a a unique blend of silicones that prevent dehydration and smooth the surface without clogging pores.
855-543-8522, www.liftlabskincare.com