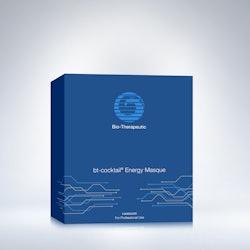 Bio-Therapeutic Energy Masque is a sheet masque that uses a bt-cocktail Sequencing Serum containing ATP, pre- and post-biotics and anti-aging powerhouses to help complement skin energy and address the signs of premature aging.
Bio-Therapeutic's new masque utilizes the Energetic Theory of Aging, which suggests that the aging process is caused by a decline in the body's energy production and efficiency, decreasing its ability to produce adenosine triphosphate (ATP), the primary cellular energy source in the body. ATP is responsible for driving the skin's ability to maintain its resilience against aging triggers.
Bio-Therapeutic's new masque offers topically applied ATP, along with peptides and other anti-aging powerhouses like sodium hyaluronate, on a sheet masque with unique imprinted Suzuki Silver pathways to boost resilience against extrinsic aging factors like climate, stress and pollution to help maintain firmness, texture and tone.
Key Ingredients: 
bt-cocktail Sequencing Serum containing ATP
pre and post-biotics
sodium hyaluronate
peptides
elastin
oat proteins