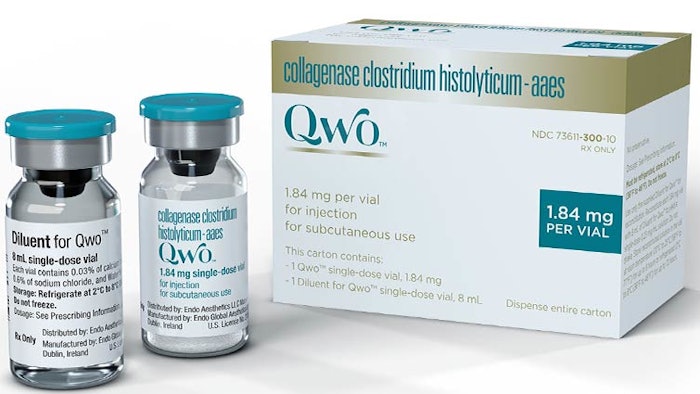 Physicians who have been looking for more effective and less invasive treatment options for their patients struggling with cellulite will soon have a new tool available. In July, The United States Food and Drug Administration (FDA) approved Endo International's Qwo injectable collagenase clostridium histolyticum-aaes (CCH) for the treatment of moderate to severe cellulite in the buttocks of adult women, making it the first FDA-approved injectable treatment for cellulite. It is slated to come to market in Spring 2021.
"Collagenase is an enzyme that helps break down collagen, and CCH specifically targets type 1 and type 3 collagen, which are the predominant types of collagen found in the fibrous septae, which partition off the fat in different areas of the body and tether down the skin, causing the dimpling of cellulite," says Sachin Shridharani, MD, plastic surgeon and investigator in the Qwo clinical trials.
The treatment protocol involves up to three treatment sessions, spaced about 21 days apart. The endpoint for the clinical trials was a two-grade improvement in severity of cellulite. "The trials included more than 800 subjects, so the data is very robust," says Dr. Shridharani. "We were looking at moderate to severe dimpling, so, by default, we were selecting more challenging and deeper dimples. I suspect patients who come in with shallower dimples will not need to be treated as many times."
Based on the approved dosing guidelines, physicians can treat up to 12 dimples in one area per session. "We usually target 12 dimples on the right buttock and then 12 dimples on the left buttock. So, we can treat a total of 24 dimples in a single session, which is a fair amount of coverage," says Dr. Shridharani. "In the second session, we can move on to another area or retreat deeper dimples for better improvement."
Continue reading reading about this injectable cellulite treatment in our Digital Magazine...
Inga Hansen is the managing editor of MedEsthetics.