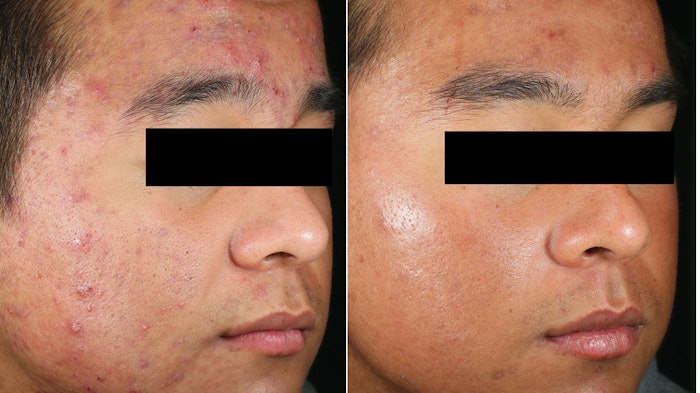 The multifactorial causes of acne and the resulting need for a combination of systemic and topical medications to control breakouts in those with moderate-to-severe acne has led to a desire to create a single, long-term treatment option. For several years, researchers have been working on a sebum-targeting laser in hopes of offering long-term relief without the need for daily oral medication. Now, the Accure 1,726nm laser, manufactured by Quanta Systems, has achieved CE mark approval for sale in Europe and is in the midst of pivotal U.S. trials with the goal of U.S. Food and Drug Administration (FDA) approval in the coming year.
"There are multiple causes of acne, but it is always centered around the sebaceous glands," says Emil Tanghetti, MD, director of the Center for Dermatology and Laser Surgery in Sacramento, California, and prinicipal investigator of the Accure. "If we can alter the sebaceous glands, you wouldn't have acne, even if it is hormonally based."
The 1,726 nm wavelength was first identified by Fernanda Sakamoto, MD, PhD, and Rox Anderson, MD, PhD, of the Wellman Center for Photomedicine. "When they looked at the absorption characteristics of sebum over many wavelengths, there were two peaks. One was at 1,726 nm and the other was at 1,210 nm," says Dr. Tanghetti. The 1,726 nm wavelength showed better absorption by sebum, but also a high peak over water, which created a challenge in developing a safe treatment.
"The therapeutic window between water and sebum is roughly a 2:1 differential, so it's a very narrow window," says Dr. Tanghetti. In comparison, he notes, a vascular laser has somewhere in the range of nine or 10:1. The answer to creating both an effective and safe treatment with the 1,726 nm wavelength lies in pulse configuration, cooling and built-in temperature monitoring.
Continue Reading about the Accure Laser in our Digital Magazine...