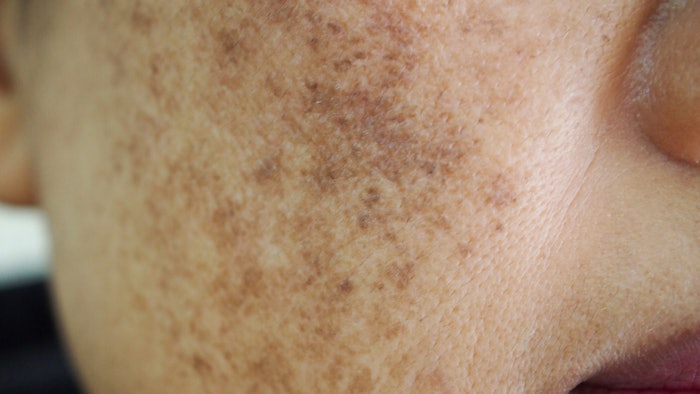 Microneedling and fractional CO2 laser are equally safe and effective when used for the delivery of tranexamic acid (TXA) in the treatment of facial melasma, according to a study published in the Journal of Cosmetic Dermatology (February 2021). 
Related: Microneedling with Tranexamic Acid as Effective as 4% Hydroquinone for Melasma
Authors Ahmad K. Seddeik Abdel‐Hameed MD, et al, performed a split-face study comparing the use of microneedling and fractional CO2 laser for drug delivery of TXA in the treatment of patients with facial melasma. The treated 30 female patients with bilateral symmetrical facial melasma with microneedling one side of the face and fractional CO2 laser on the other, followed by immediate topical application of TXA solution 4 mg/mL. The patients underwent a total of six biweekly sessions.
Two weeks after the last session, there was a significant mean reduction in baseline modified melasma area and severity index (mMASI) score on both sides of the faces: 3.43 ± 1.84 to 1.59 ± 1.51 on the microneedling side and 3.51 ± 1.84 to 1.78 ± 1.51 on the fractional CO2 laser-treated side. There was no statistically significant difference between the two sides.