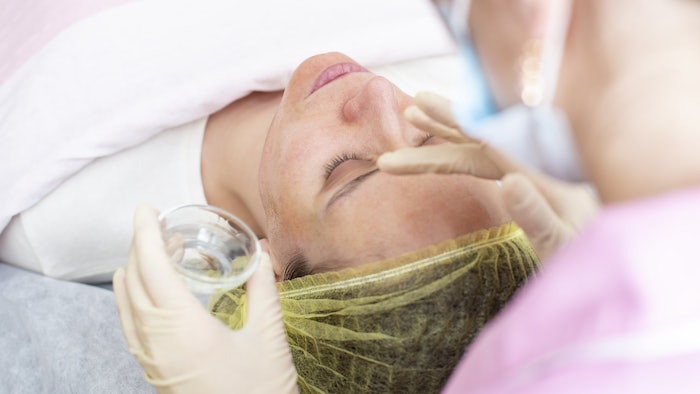 A study that included 40 Egyptian women who had been diagnosed with melasma found no significant difference in outcomes for those treated with combination low-power CO2 laser plus Jessner's peels compared to those treated with Jessner's peels alone.
For the study by Eman Elmorsy, PhD, et al, published in the Journal of Clinical and Aesthetic Dermatology (February 1, 2021), patients were randomly assigned into two groups. Group A (n=20) underwent a single session of low-power fractional CO2 laser followed by Jessner's solution peeling after two weeks for up to six sessions. Group B (n=20) underwent Jessner's solution peeling for up to six sessions at biweekly intervals.
Two independent blinded dermatologists evaluated outcomes using mMASI score calculation and standardized digital photographs taken at baseline, at each treatment session, at the end of treatment at the end of the six-month follow-up period.
The mean mMASI score in Group A was reduced from 6.01±4.51 points to 4.22±4.26 points at six-month follow-up. In Group B, the mean mMASI score was reduced from 4.42±3.89 points to 2.69±2.46 points.
The authors noted that there was no significant difference among the two groups in mean reduction, but patient satisfaction was higher in Group A, likely atrributable to a more rapid initial response to treatment.
Read the full study here.