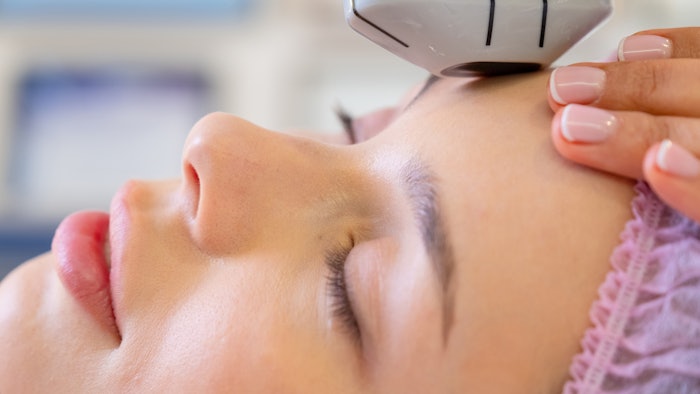 Laser and energy-based treatments are typically performed in a session separate from botulinum toxin injections to prevent potential spread of the toxin outside the treated muscle. To shed further light on the potential risk of same day toxin injections and nonablative fractionated laser treatment, authors Hyemin Pomerantz, MD, et al, performed a single-center, retrospective study to assess the frequency of eyelid ptosis after glabella/periorbital botulinum toxin injection and nonablative fractionated laser performed in the same treatment session. (Dermatologic Surgery, April 2021) 
Related: Intradermal Btx Forehead Injections as Effective as Intramuscular
They identified same-day treatments consisting of glabella and/or periorbital botulinum toxin injection and full-face nonablative fractionated laser treatments performed at a private dermatology practice from 2017 to 2019, and documented cases of eyelid ptosis through documentation of the complication at a follow-up encounter, or prescription of apraclonidine.
In all, 393 patients underwent a total of 616 combination treatments of botulinum toxin and full-face nonablative fractionated laser on the same day at the authors' practice in the three-year study period. The most common laser treatment was nonablative fractional 1,927 nm thulium laser therapy (89%).
Fifty-three treatments (8.6%) included both 1,550 nm erbium glass laser and 1,927 nm nonablative fractional lasers to the face. In these cases, 1,550 nm erbium glass laser was used to treat focal areas of the face (e.g., periorbital, perioral) with 1,927 nm to the areas of the face not treated by 1,550 nm, or both 1,550 nm and 1,927 nm to the full-face.
Nine patients underwent 1,550 nm alone. Two had a combination of 1,927 nm and CO2 ablative fractional laser together, where the CO2 laser was used solely for the perioral area. In both cases, botulinum toxin was injected to the upper face.
Of the 616 cases, 508 (94%) included botulinum toxin injected in the glabella, 541 (88%) in the periorbital areas and 508 (82%) in the forehead.
There was one case of documented eyelid ptosis (0.2%) following the combined laser and toxin treatment.
The authors note that the physicians in the practice perform laser treatments first followed by botulinum toxin injection. Therefore, the low risk of blepharoptosis with the same-day combined therapy represents the outcome when toxin is injected on the same day after laser and recommend caution if injection is administered before laser.
The study did not compare the rate of eyelid ptosis in combined treatment patients with patients who underwent botulinum toxin injections alone or in a separate session. However, the authors noted that complication rate of 0.2% is in the lower end of the reported range of 0% to 5.4% in clinical trials with botulinum toxin alone, suggesting that the risk of spread of glabella/periorbital botulinum toxin to an unintended muscle is minimal in the setting of the concomitant full-face nonablative fractionated laser.