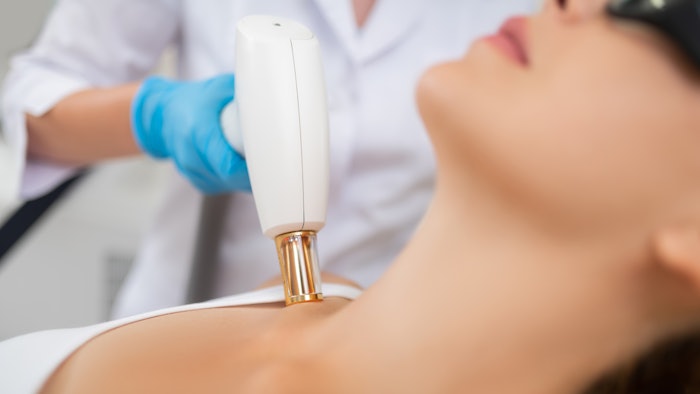 Adding intense pulsed light to photodynamic therapy with 10% aminolevulinic acid hydrochloride gel and LED offered greater improvement in wrinkles on the decollete than seen with PDT alone, according to the outcomes of a study published in the Journal of Lasers in Surgery and Medicine (July 29, 2021).
Related: Thulium Laser as Effective as PDT for Decollete Photodamage
Michael Abrouk, MD, Joanna Dong, MD, and Jill S. Waibel, MD, performed a split-chest to evaluate the safety and efficacy of photodynamic therapy (PDT) with a novel 10% aminolevulinic acid (ALA) hydrochloride gel (10% ALA gel) and BF-RhodoLED light (635 nm; 37 J/cm2) alone and in combination with intense pulsed light (IPL) to repair photodamaged skin of the decollete.   
Related: IPL: Understanding Clinical Endpoints
This single-site prospective, randomized, intraindividual split chest pilot study included 20 female subjects with moderate to severe photodamage of the decollete; 18 subjects completed the study. Subjects were randomized to receive ALA-PDT + IPL to one split-side of the chest and ALA-PDT only to the other side. Three blinded raters assessed aesthetic improvement using the global aesthetic improvement scale (GAIS). 
Related: The Neck and Decollete
At 24 weeks, the ALA-PDT + IPL side of the chest showed superior GAIS results in comparison to the ALA-PDT only treatment side.