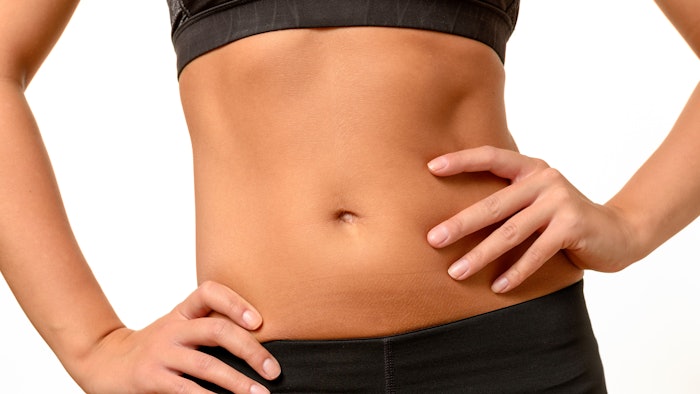 Researchers Amir Moradi, MD, MBA, Sabrina Fabi, MD, David Rapaport, MD, Sachin Shridharani, MD, Mitchel P. Goldman, MD, and Felicia Tsai Fu, MS, sought to gain a better understanding of factors contributing to patient satisfaction with electromagnetic muscle stimulation (EMMS) for noninvasive body contouring through a restrospective study. The results of the study were published in the Journal of Cosmetic Dermatology (September 2021). 
Related: Combination Contouring Treatments
The authors reviewed patient information and questionnaires regarding EMMS treatments to the abdomen and buttocks collected between July 1, 2019 to December 1, 2019 from clinical practices in the U.S. The questionnaires included the Subject Experience Questionnaire (SEQ), the Body Satisfaction Questionnaire (BSQ) and the Subject-rated Global Aesthetic Improvement Scale (SGAIS).
They found that the most frequently cited reasons for seeking EMMS treatment included a desire to appear more toned (89%) or slimmer (42%), and a desire to feel stronger (38%). BSQ and SGAIS scores improved four weeks after the treatment. On post-treatment SEQ, most patients reported being "satisfied" or "very satisfied" with abdoment (83.2%; n = 89/107) or buttocks (57.4%; n = 27/47) treatment. 
Related: RF-Assisted Liposuction Effective in Face and Body Contouring
Following abdominal EMMS treatment, the majority of patients reported feeling more confident (77.1%; n = 84/109), happier in their overall appearance (78.7%; n = 85/108) and feeling and looking better in clothes (69.7%; n = 76/109). These aesthetic changes were accompanied by functional changes with most patients reporting improved athletic performance (66.1%; n = 72/109) and that they felt stronger (83.5%; n = 91/109) and more motivated to follow-up with additional EMMS treatments to maintain results (79.6%; n = 86/108). 
The comparison between SEQ responses at baseline and four weeks after the final treatment session demonstrated that treatment with EMMS was in line with patients treatment goals (i.e. desiring to appear more toned, slimmer and feel stronger).