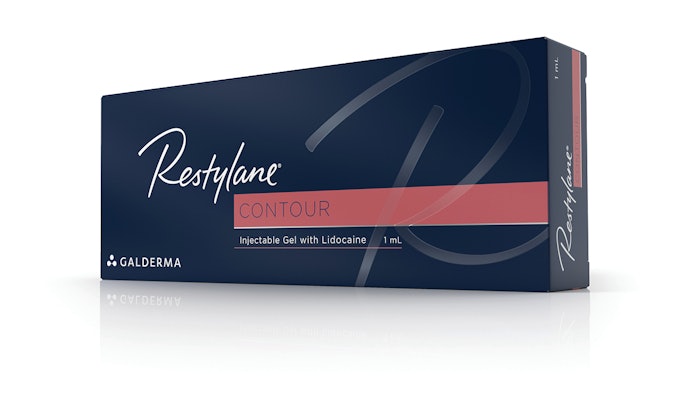 The use of dermal fillers in the midface has been growing in popularity. Injecting the deep fat pads and zygomatic arch can reverse age-related volume loss, provide definition to the cheek bones and affect the overall appearance of the face. Initially, fillers were used off-label, now as recognition of these treatments has grown, we've seen new fillers developed and approved specifically for this indication.
In June, Galderma's Restylane Contour was approved by the U.S. Food and Drug Administration (FDA) for cheek augmentation and correction of midface contour deficiencies in adults over the age of 21. The new hyaluronic acid (HA) dermal filler features XpresHAn Technology, a manufacturing process which creates a smooth, injectable gel that integrates into the skin for natural, dynamic expression in motion.
"You can use Restylane Refyne and Defyne in the cheeks—and we have been up until now—but you have to use so much filler that it gets expensive," says Leslie Baumann, MD, dermatologist and investigator on the Restylane Contour clinical trials. "Contour has a larger molecule, which takes up more volume when you inject it, so it takes fewer syringes to deliver the same revolumizing effect."
The FDA approval was supported by data from a randomized, comparator-controlled, multi-center, pivotal Phase 3 study conducted at 15 centers across the United States. The study evaluated 270 patients.
Group A compared the effectiveness and safety of Restylane Contour (n=142) versus a control comparator (n=68). Group B compared the injection of Restylane Contour with needle (n=60) and cannula devices (n=60) in the same patient on each side of the face.
Continue reading in our Digital Magazine...
Inga Hansen is the managing editor of MedEsthetics.