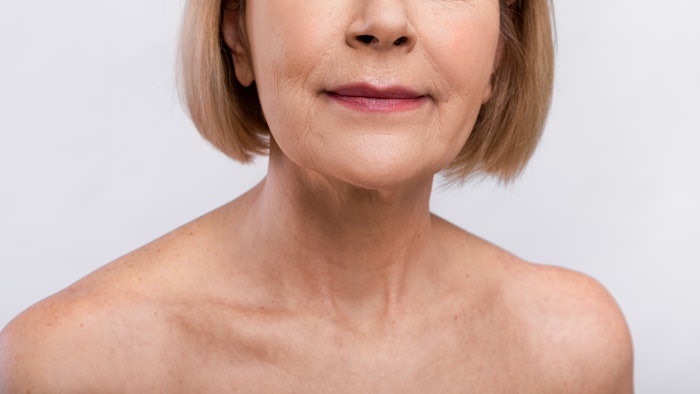 A new treatment protocol that includes a higher reconstitution volume followed by immediate injection of PLLA (poly-L-lactic acid, Sculptra) offers comparable outcomes with no compromise in safety compared to traditional reconstiution and injection protocols.
For "A Randomized Study on PLLA Using Higher Dilution Volume and Immediate Use Following Reconstitution," published in the July 2021 issue of the Journal of Drugs in Dermatology, Melanie Palm, MD, evaluated PLLA for correction of nasolabial folds after changes in reconstitution and injection procedures.
Eighty subjects were treated to optimal correction of nasolabial folds with a treatment regimen consisting of ≤4 injection sessions. They were randomized 2:1 to receive PLLA reconstituted with either 8 mL or 5 mL sterile water for injection (SWFI). The 8 mL product included an additional 1 mL 2%-lidocaine and was injected immediately following reconstitution.
The primary endpoint for effectiveness was change from baseline of nasolabial folds, assessed by blinded evaluation using a validated wrinkle assessment scale (WAS) at week 48.
The primary endpoint was met, and subjects from both groups demonstrated high WAS responder rates (≥1-grade improvement from baseline) at week 24 (≥75%) and week 48 (≥67%).
The authors noted that aesthetic improvement was high (≥86%) throughout the study, and adverse events were mostly mild and transient.
They found that PLLA reconstituted with 8 mL SWFI demonstrated a comparable treatment effect to that of the reference group in reducing wrinkle severity of nasolabial folds. In addition, safety was not compromised using a higher reconstitution volume including lidocaine, injected immediately after reconstitution.