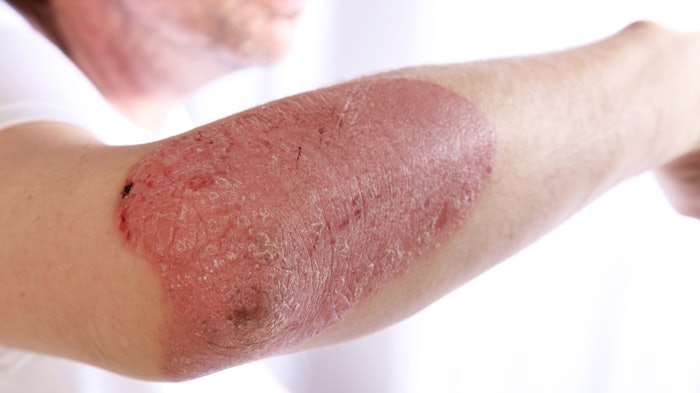 In an effort to compare the efficacy and safety of intradermal botulinum toxin (BTX) in the treatment of plaque psoriasis, authors Fathia M. Khattab, MD, and Mai A. Samir, MD, conducted a comparative study with 35 patients that were treated by split-body therapy. The results of this were published in the Journal of Cosmetic Dermatology (June 19, 2021).
Related: Scientists Discover Origins of Eczema and Psoriasis
The 35 patients in the study had chronic plaque psoriasis. They were either treated with intradermal BTX or with intralesional 5-fluorouracil (5-FU) to each of two bilaterally symmetrical psoriatic plaque lesions. The outcomes were assessed using the sum of erythema, scaling and induration scores and the clearing percentage of the target plaque lesional assessed by two blinded observers. 
Related: Diets High in Sugar and Fat May Contribute to Skin Inflammation
The response rate was 85% on the BTX treatment side and 90% on the 5-FU side. There was no significant difference between both sides regarding clinical response or side effects. The recurrence rate was 15% on both sides. The authors concluded that intradermal BTX is a safe, single injection and effective therapy for plaque-type psoriasis, but more studies are required to further prove the efficacy of this treatment for plaque psoriasis. 
Related: Research Links Gut Microbes and Inflammatory Skin Disease