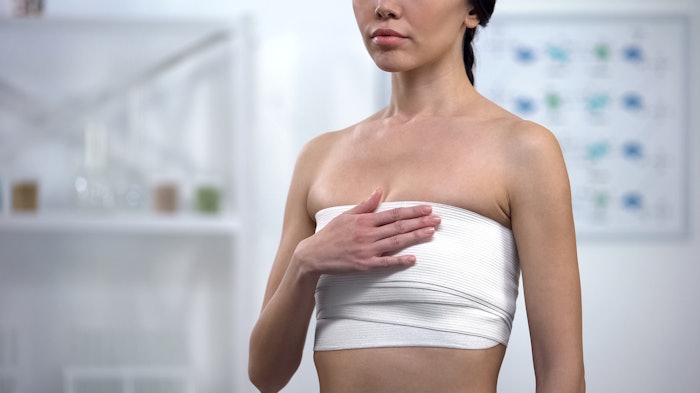 Tissue stromal vascular fraction (tSVF) of adipose tissue is composed of a heterogenous mixture of cells cembedded in extracellular matrix and contains growth factors and cytokines involved in the wound healing process (e.g. parenchymal proliferation, inflammation, angiogensis and matrix remodeling). Researchers in the Netherlands hypothesized that tSVF injections could reduce post-surgical scar formation and discovered that the injection of tSVF did result in improved wound healing and reduced scar formation six months postoperatively. The study was published in the Aesthetic Surgery Journal (January 2022). 
Related: Adipose-derived Exosomes Improve Wound Healing
The prospective, double-blind, placebo-controlled, randomized trial was conducted between 2016 and 2020 and included 40 mammoplasty patients (34 completed the follow-up) who were enrolled and followed for one year. At the end of the mammoplasty procedure, patients received tSVF injections in the lateral 5 cm of the horizontal scar of one breast and a placebo injection in the contralateral breast. 
Researchers used the Patient and Observer Scar Assessment Scale (POSAS) to evaluate scar appearance, and secondary outcomes were obtained with photograph evaluation and histological analysis of scar tissue samples.
Related: Faster Wound Healing with Thermomechanical Skin Ablation
When evaluating the 34 patients who completed the study, the tSVF-injected incisions had significantly improved postoperative scar appearance six months postoperatively as assessed by POSAS questionnnaire. There were no differences observed at 12 months postoperatively. No improvement was seen based on the evaluation of photographs and histological analysis of postoperative scars between both groups.