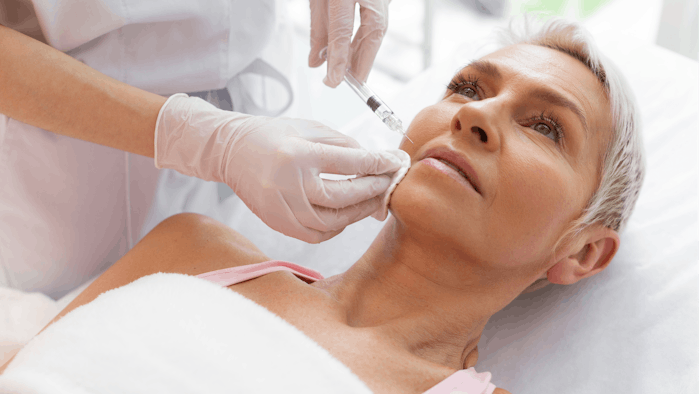 A 52-week, prospective, randomized, double-blinded study comparing the efficacy and durability of a small-to-medium-particle HA filler, Restylane, and a large-particle HA filler, Yishumei, found that both fillers had good therapeutic effect in the nasolabial folds (NLFs), but Restylane had a more prolonged effect. The study was published in the Journal of Cosmetic Dermatology (January 12, 2022). 
Related: Self Cross-Linking Hydrogel Filler Shows Promise
Yifan Hu, MD, et al, enrolled 100 subjects with moderate-to-severe NLFs, who were randomized to receive either Restylane (Group A) or Yishumei (Group B). Subjects within the two groups were further randomly divided into a superficial injection group (Group A1 & B1) and a deep injection group (Group A2&B2).
The treatments were well tolerated by all the participants, and all four groups showed a reduction in mean Wrinkle Severity Rating Scale (WSRS) score and Global Aesthetic Improvement Scale (GAIS) by week 12. At week 24, Group B1 and Group B2 had higher WSRS and GAIS scores than in the previous weeks, while the WSRS and GAIS scores did not change in Group A1 and A2. By week 52, the WSRS scores in all the groups returned to almost baseline levels.
Related: Gender and Age Variations of the Angular Artery Within the Nasolabial Sulcus
In terms of patient satisfaction, most subjects were satisfied with their treatment, and no meaningful differences were found between the fillers. The most common adverse events were swelling, redness and tenderness at the injection site, which resolved spontaneously without treatment.
The authors concluded that both HA fillers had good therapeutic effect on NLFs in the early stage of treatment, with Restylane showing a more prolonged effect. In addition, the deep injection provided slight midface lifting and improved facial aesthetics when compared to the superficial injection groups.