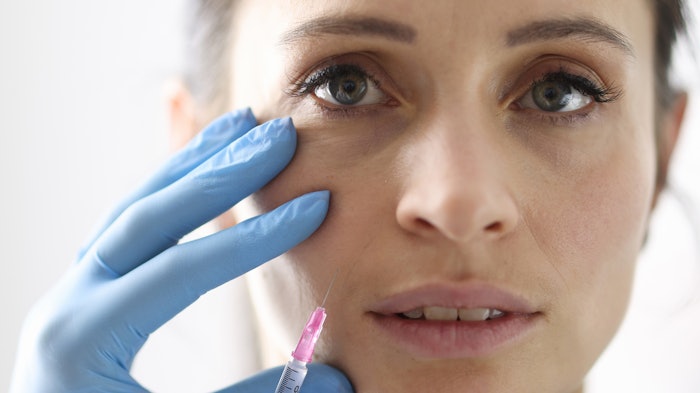 The naslolabial folds are one of the most commonly injected areas for facial rejuvenation and also one of the highest risk areas due to their arterial vasculature. In the June 2021 issue of the Aesthetic Surgery Journal, researchers Sebastian Cotofana, MD, PhD, et al, presented a three-dimensional description of the course of the angular artery within the nasolabial sulcus.
Related: Researchers Map Location of the Labial Arteries for Safer Lip Augmentation
They examined 300 nasolabial sulci from 75 males and 75 females of Russian Caucasian ethnic background (mean age of 45.7 years; mean body mass index, 25.14 kg/m2) using contrast-enhanced computed tomography cranial scans.
They identified up to three arteries within the nasolabial sulcus: ~90% contained one arterial trunk, ~9% had two trunks and ~1% had three trunks. Females had more arteries than men. The artery is located at mean depths of 21.6 mm at the oral commissure and 8.9 mm at the nasal ala. The angular artery was lateral to the nasolabial sulcus in 100% of cases. The smallest distance between the artery and the nasolabial sulcus was at the oral commissure (11.91 [7.9] mm) and the greatest was at the nasal ala (13.73 [3.9] mm).
Related: Vertical Glabellar Line Fillers and the Supratrochlear and Supraorbital Arteries
The authors noted that, contrary to current concepts, the angular artery is not located strictly subdermal to the nasolabial sulcus but at a variable depth, and in 100% of the investigated cases lateral to the nasolabial sulcus. In addition, the depth and lateral distance between arteries and sulci reduces significantly with increasing age, underscoring the need for special caution when injecting this site.