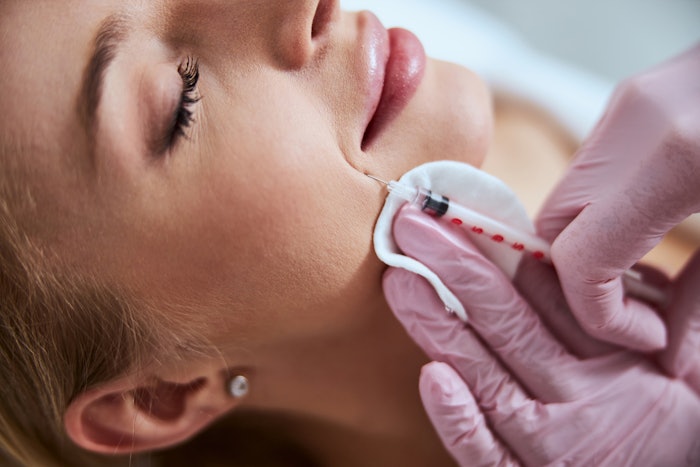 Researchers Tong Peng, MD, Wei-Jin Hong, MD, PhD, Jun-Reng Fang, MD, and Sheng-Kang Luo, MD, PhD, performed a systematic review and meta analysis to compare the efficacy and safety of a monophasic and biphasic hylauronic acid (HA) filler product in the treatment of nasolabial folds (NLFs). After reviewing a total of 1,190 patients, they determined that monophasic HA is better than biphasic HA. 
These findings were published in the Journal of Cosmetic Dermatology (January 2022). 
Related: The Difference in Hyaluronic Acid Molecular Sizes
The researchers identified studies by searching PubMed, Embase and Web of Science from inception to May 2021. Assessed outcomes included the Wrinkle Severity Rating Scale (WSRS) score, Global Aesthetic Improvement Scale (GAIS) score and incidence of adverse events.
In total, 1,190 patients from 14 clinical studies were included in the meta-analysis.
Related: Ingredient Spotlight: Hyaluronic Acid
There was no significant difference in the rate of adverse events between monophasic and biphasic HA groups. However, the mean WSRS score improvement was significantly lower in the groups that received biphasic fillers, and the subject satisfaction percentage was significantly higher in subjects treated with a monophasic HA compared to biphasic.