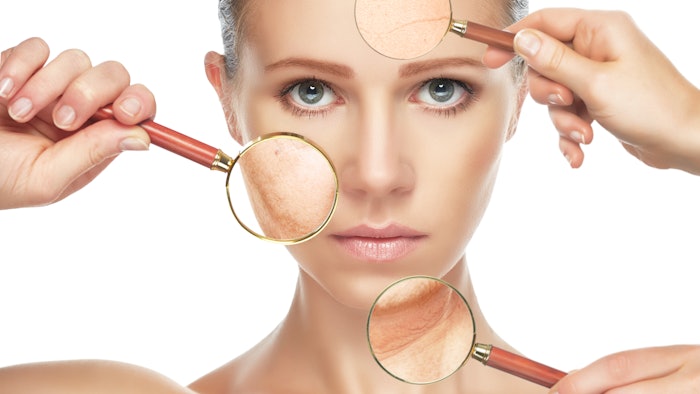 A split-face study comparing injections of platelet-rich fibrin matrix (PRFM) with saline for facial rejuvenation showed significant improvement in skin texture on the treated side. The study was published in the Aesthetic Surgery Journal (July 2021). 
The 12-week, randomized, placebo-controlled trial was conducted at a single center and included 30 subjects (mean age of 49.9 years). The subjects received PRFM injection in the mid-cheek region and nasolabial fold on one side of the face and saline on the contralateral side. The primary outcome measure was the difference between pre- and post-treatment total VISIA Skin Analysis (Canfield Scientific) scores for each group at six and 12 weeks. Researchers also calculated the subscores for each skin parameter. 
Related: PRF Injections Improve Pore Size and Skin Discoloration
At six weeks, the median change in total VISIA score was -1.77 (2.36) in the PRFM group and -0.73 (2.09) in the saline group. The only skin parameter that had a significantly different change in score between the groups was texture. At 12 weeks, the change in median score was -1.31 (3.26) in the PRFM-treated side and -0.76 (2.21) in the saline side. There was no statistically significant change in score for any of the other individual skin parameters. 
The authors concluded that PRFM can objectively improve skin quality compared to the placebo, noting that, "Texture was the only skin parameter that significantly improved, which is consistent with PRFM's role as a filler agent. The results seemed to presist for at least six weeks."