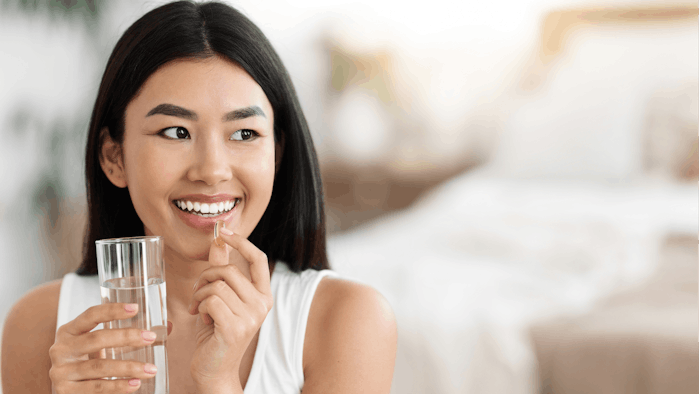 Melasma patients who took a daily oral synbiotics supplement, containing both prebiotic and probiotic ingredients, saw a statistically significant decrease in the severity of their melasma compared to a control group.
The prospective, double-blind, placebo-controlled study, "Synbiotics supplement is effective for melasma improvement," published in the Journal of Cosmetic Dermatology (September 2021), included 57 subjects.
Related: Melasma Diagnosis and Management: An Evidence-Based Approach
Subjects were randomly divided in two groups (29 for the experimental and 28 for the placebo group). The subjects were aged 30-50 years old and had Fitzpatrick skin type III–VI with facial melasma on both sides of the face. They were treated with either oral synbiotics or placebo (one sachet daily for 12 weeks). Melasma severity and skin health were evaluated at four visits (baseline, four week, eight weeks and 12 weeks).
Related: Tranexamic Acid vs. Vitamin C with Microneedling for Melasma
The researchers measured melasma severity using the mMASI score. The mMASI scores for the synbiotics treatment group were 7.54 ± 0.79, 7.36 ± 0.80, 7.16 ± 0.73 and 6.98 ± 0.72 at baseline, weeks four, eight and 12, respectively. In the placebo group, mMASI scores were 7.51 ± 0.86, 7.52 ± 0.88, 7.54 ± 0.86, and 7.54 ± 0.89 at the same time points.
Melasma severity scores in the treatment group at week 12 were significantly lower than in the placebo group, showing that oral synbiotics supplementation did improve the severity of melasma score.