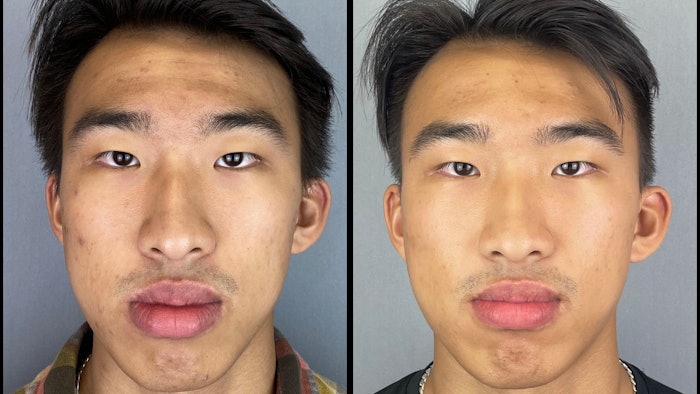 Courtesy of Afore by Dr. Few
While retinol can provide great anti-aging benefits to the skin, it is also associated with irritating effects. A study from researchers Julius Few, MD, et al, showed that combining water-soluble cannabidiol (CBD) with retinol can mitigate irritation from retinol and improve the skin's appearance. The study was published in the Aesthetic Surgery Journal (January 2022). 
"CBD is anti-inflammatory and pro-healing in nature. I believe that the anti-inflammatory and antioxidant properties provided by CBD are an essential component of protecting the skin and contribute to the graceful aging of any skin type," says Dr. Few. 
Related: Formulating on Trend: Combining Humectants and Retinol
To assess the efficacy and tolerability of a topical that contains CBD and retinol (CR-Topical, CR Emulsion from Afore by Dr. Few) for improving facial skin, the researchers performed a prospective, single-center pilot study that included 10 female subjects and one male subject aged 20-53 years. These patients were presented with facial skin imperfections (visible pores, dehydration, roughness and or static/dynamic wrinkles). The patients applied CR-Topical to the entire face one daily for 42 days. 
The outcomes of the treatment were measured at days 1, 21 and 42 using the Global Ranking Scale (GRS) with Comprehensive Skin Analysis by subjects and senior investigator, as well as by a blinded reviewer (board certified plastic surgeon). Dynamic videos and static imagery were also taken before and after treatment, and subject satisfaction surveys were completed. 
The researchers also evaluated the patients using a concept from Dr. Few called Four Dimensional Beauty. In addition to the evaluation of aesthetic results using the industry standard of static before and after images, Dr. Few employs videos of patients making a range of expressions to evaluate the functional impact of treatment on apparent patient confidence and openness of expression. 
Related: Inflammatory Skin Conditions Drive Patient Interest in Cannabis
Global improvement across all 13 domains was observed, with the greatest mean difference for visible pores, (2.0; 95% CI, 1.5-2.5), dehydration (2.0; 95% CI, 1.4-2.6), surface roughness (1.8; 95% CI, 1.2-2.4), static wrinkles (1.8; 95% CI, 1.1-2.5) and dynamic wrinkles (1.6; 95% CI, 0.8-2.3). Subject satisfaction and willingness to recommend the product to other was 100% and 90%, respectively. The tolerability of the CR-Topical was excellent. 
CR-Topical proved to be an effective method in improving global skin quality, including static and dynamic wrinkles.