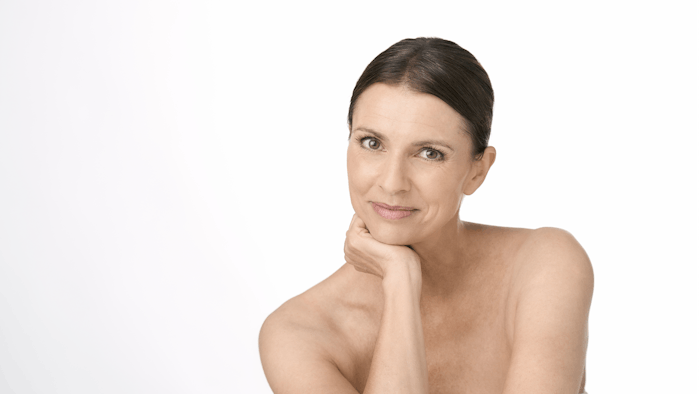 The use of hyperdilute calcium hydroxylapatite (CaHA, Radiesse) injections for aesthetic concerns is an increasingly popular treatment. To help practitioners deliver optimal outcomes, a panel of 12 aesthetic physicians developed practical guidelines for skin tightening with hyperdilute CaHA, published in the Aesthetic Surgery Journal (June 30, 2021).
Related: Safety of Higher Dilution PLLA with Immediate Injection
The panel held three live webinars as part of a continuing medical education program and developed its guidelines based on the most frequently asked questions from the more than 900 attendees. Topics covered in the paper include: patient identification and education; dilution practices; treatment planning; plane of injection; updates on injection technique; and safety.
Patient Selection
The authors note that, in general, hyperdilute CaHA is not appropriate in areas for which the apparent laxity is caused by excess fat (abdomen and thighs) or lipodystrophy (upper arms). For treatment of the thighs and abdomen, in particular, the patient should be near their ideal body weight. In the authors' experience, the most common presenting complaint of ideal candidates for hyperdilute CaHA is crepey skin, but patients may also present with complaints of sagging, unevenness in skin texture or cellulite and/or striae.
Related: Treating Skin Laxity with MFU-V and CaHA
Setting Expectations
It is important that patients understand that the effect of treatment will not be immediately visible and that the induced collagenesis does not produce an appreciable effect for approximately four to six weeks. In addition, treatment typically requires a series of injections over time. The panel recommends two to three sessions spaced approximately six weeks apart. Looking at duration of results, In the experience of the authors, the duration of treatment effect is about one year before patients generally request retreatment.
Related: Guidelines To Manage CaHA Filler-related Complications
Dilution
In general, the dilution is based on skin thickness, with more dilute product used for thinner skin to avoid visibility and/or palpability. A 1:2 or 1:3 dilution is best for normal skin, 1:4 for thin skin, and 1:6 for atrophic skin. Most often, this translates to using a 1:2 dilution in the face, a 1:2 to 1:3 dilution in the neck and décolletage, and 1:3 in most of the body, unless the skin is thin or atrophic, in which case the product should be diluted further.
Treatment Technique
Injectors should minimize the number of entry ports for the surface area to be covered, regardless of treatment area. The authors recommend using a cannula (22–25 gauge) rather than a needle for most treatments, because cannulas may be passed through the plane of the subcutaneous-dermal junction easily, and the placement of the product is more than sufficiently precise.
Needle may be preferable for focal treatment of acne scars and individual cellulite dimples with diluted product (1:1) or hyperdiluted product (1:2). However, passage of a cannula underneath cellulite dimples or scars can disrupt the fibrous septae, similar to subcision, which may further improve textural irregularities beyond the biostimulatory effect of CaHA. The authors have also seen this effect when treating the neck, where passage of the cannula underneath transverse neck lines during product placement can improve treatment outcome, possibly due to subcision of fibrous septae.
Plane of Injection
Hyperdilute CaHA should always be placed immediately below the dermis in the dermal-subdermal plane. Placement that is too superficial within the dermal plane can lead to visibility. Even distribution is important because it prevents product visibility and allows CaHA to exert its biostimulatory effect over the entirety of the treatment area.
The expert panel of injectors included: Z. Paul Lorenc, MD, FACS, Jeanette M. Black, MD, Jessie S. Cheung, MD, FAAD, Annie Chiu, MD, Roberta Del Campo, MD, Alan James Durkin, MD, MS, Miles Graivier, MD, FACS, Jeremy B. Green, MD, FAAD, Gideon P Kwok, DO, Keith Marcus, MD, Charalambos "Babis" Rammos, MD, FACS, and William Philip Werschler, MD, FAAD, FAACS.