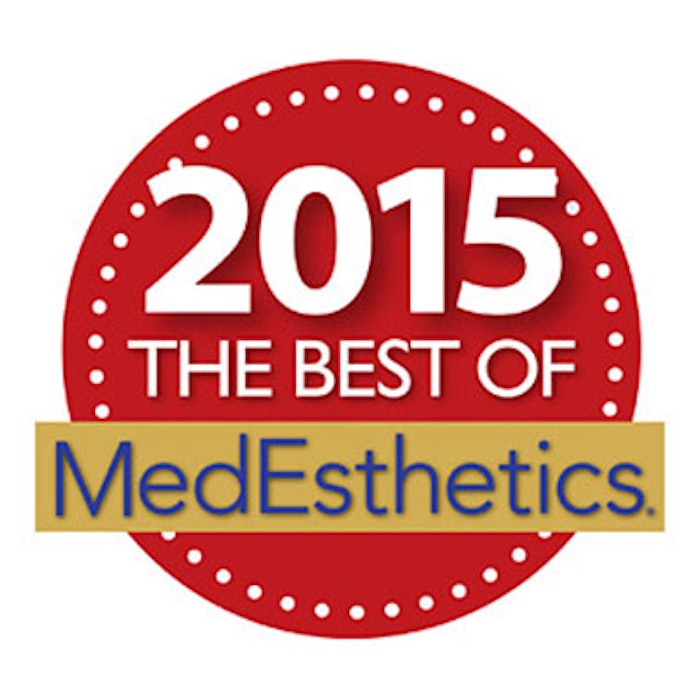 Over the past 10 years, the editors and staff at MedEsthetics have been continually impressed with the innovation, dedication and compassion that defines the providers who care for and serve aesthetic patients. Physicians in this field face some unique challenges. They must not only take part in practice marketing to make patients aware of their services, but also offer consistent, top-notch results in an environment that makes patients feel both comfortable and valued. With these awards, we wanted to publicly recognize practices and medspas that have mastered the art of cosmetic medicine as well as practice marketing, management and growth.
In May 2015, we began soliciting nominees for the following categories and we are thrilled to report that we received more than 300 nominations from providers, employees and even patients who wanted to sing the praises of their providers. Our editors and designers took part in reviewing the marketing and décor-related categories. Physician nominees were ranked based on practice growth, patient ratings and number of nominations.
Best Single Physician Practice: Vitenas Cosmetic Surgery
Best Single Physician Practice was by far our largest category for nominees, and choosing just one winner was difficult. Vitenas Cosmetic Surgery stood out among the nominees thanks to the long career of its founder, Paul Vitenas, MD, and the continued growth and transformation of his private aesthetic practice. After completing his plastic surgery residency at Tulane University, Dr. Vitenas completed multiple fellowships in craniofacial and maxillofacial surgery with Tony Wolf, MD, Paul Tessier, MD, and Ralph Millard, MD. He opened Vitenas Cosmetic Surgery in 1991 while serving as chief of surgery then chief of the Memorial Herman Hospital System in Houston.
In 2006, he added the Skin Institute, a facility dedicated to noninvasive cosmetic procedures and esthetics, to his plastic surgery practice. "Back in 1990, I met a 65-year-old woman in Miami who had a facelift by Dr. Millard. She did maid work in the neighborhood where we were renting a bungalow and I thought, if maids here in Miami are having facelifts then this whole idea of cosmetic surgery being only for the wealthy is going to go away," says Dr. Vitenas. "By 2006—with the growth of noninvasive procedures—it was clear that a change in the mindset of consumers across the country had taken place."
Dr. Vitenas is a Castle Connolly Top Doc, a Vital's Patient Choice Award winner and is listed among America's Top Plastic Surgeons by Consumer Reports. But what truly impressed us was his continual growth—he has expanded his facility three times, most recently to a free-standing, three-story building in the heart of Houston complete with a surgical center; overnight suites; esthetic, laser and injectable services; and a robust retail skincare center—and the gushing reviews of hundreds of patients who cite his and his staff's warm manner, ability to create beautiful, natural-looking results and careful follow-up care.
"I love doing what I do. It is my passion, and it's been my passion for many, many years," he says. "Changing people's lives and seeing the joy, confidence and brightness in their eyes is a tremendously rewarding experience for any physician, and we get it here in spades."
Best Group Practice: Elite MD
Launched in March 2009 in Danville, California, by dermatologist Sonia Badreshia Bansal, MD, and plastic surgeon Vivek Bansal, MD—also husband and wife—Elite MD has quickly grown to five locations with six providers and 45 employees. The practice includes: plastic surgery, cosmetic dermatology, medical dermatology, a laser institute, medspa and patient support center. In addition, the Bansals are heavily involved in clinical research, education and community service. "We believe strongly in giving back to the profession, community and family that means so much to us," says Dr. Badreshia Bansal.
During their time as undergraduates at the University of California, Riverside, the couple helped launch an after-school program for disadvantaged children as part of a university community relations project initiative. During medical school at Penn State, they worked with second-year medical student Tim Weaver to create LION CARE, a student-run clinic that provides free primary healthcare services to the homeless. Most recently, the couple founded RoseBush Clinics, which enlists physician-volunteers to perform pediatric plastic surgery around the world.
When it comes to patient care, the practice owners look to their name. "We want to go beyond standard care to deliver elite care. If we get even one complaint, we take that seriously. All staff members are brought together to learn if there is a problem. We don't want to make the same mistakes twice," says Dr. Badreshia Bansal. "Our providers complement each other as they all specialize in different fields and are able to refer cases to other providers in the practice. If the patient needs additional care outside of our provider network, we do not hesitate to refer out if necessary. Our priority is patient care and creating a positive experience every time."
[pagebreak]
Best Medspa: Genesis MedSpa
Lisa Jenks, MD, an emergency medicine physician, entered the field of aesthetics 10 years ago after the birth of her third child. In 2007, she opened Genesis MedSpa in Colorado Springs, Colorado. Her mission was simple: To educate clients and make every person who walks through the door feel like family. Each new client receives a free consultation with a VISIA skin analysis; existing clients receive an annual VISIA skin analysis in the month of their birth. "Our front desk staff tries to greet every client by name. We jot little notes in the chart, so if a client mentions that she is taking her dog to the vet because the dog has been sick, the next time she comes in we remember to ask about the dog," says Dr. Jenks. "We pamper our clients by giving them little vases of flowers every time they leave and placing candies on the pillows in the treatment rooms. I frequently tell my staff that, while we are absolutely excellent, people can go into the city and find doctors that can do Botox as well as I can and estheticians who can perform microdermabrasion as well as we can, but there is no place in southern Colorado that treats—and educates—clients as well as we do."
Her strategy has worked. In nine years, the medspa has nearly doubled in size—from four treatment rooms to seven—and is currently preparing for another expansion to meet growing demand. Genesis has been voted Best MedSpa in Colorado Springs, twice won the BBB Excellence in Customer Service award and has consistent five-star ratings on Yelp, Intuit Local, TripAdvisor and BirdEye.
"What a fun adventure this has been," says Dr. Jenks. "That's another key to our success. I hire people who love what they do, whether it's greeting clients at the front desk, providing services or marketing. We have a lot of fun together and we love what we do."
Happiest Employees: Seiler Skin Cosmetic Laser & Aesthetics Center
One of the joys of working in this industry is that it is filled with happy people who love what they do for a living. When reviewing nominees for Happiest Employees, we heard so many wonderful stories from employees who truly adore their jobs and their co-workers. But one entry stood out, and it came from Warren Seiler, MD's employees at Seiler Skin Cosmetic Laser & Aesthetics Center. "My favorite part of working at Seiler Skin is the amazing communication we have among staff," says esthetician Adina Barnett, one of seven staff members at the Homewood, Alabama-based practice. "Dr. Seiler is very approachable and welcomes all questions. Our staff is eager to help and support one another when needed. We truly are a team."
Employees, such as patient coordinator Laura Marshall, also shared the perks offered by Dr. Seiler and wife Jill, including discounted products, free procedures, gift certificates to employees' favorite stores, birthday cards and desserts, continuing education opportunities and a clear path to advancement. But it was the less tangible benefits, such as Dr. Seiler's compassion for his patients, daily thank-yous and compliments to his staff, and positive, clear communication that bring out the best in his team. "He takes the time to explain the way things work, gives us amazing analogies so that we can better relate to things he's teaching us, and constantly makes an effort to thank us for all the hard work that we do," says Marshall. "We share funny stories and life events, we often all get together for dinner after hours and even include each other in random group texts. We truly are a small, tight-knit group that gets along, and it comes across to our patients."
Dr. Seiler offers similar praise to his team. "Our current crew of employees is great. This is the best staff I've ever had," he says. "They come to work on time, they work their tails off, they care about our patients, and we have a lot of fun. I know I can't do it without them."
[pagebreak]
Best Decor: Shino Bay Cosmetic Dermatology, Plastic Surgery & Laser Institute
When Rich Goren, a former sales rep with Cynosure, and cosmetic dermatologist Shino Bay Aguilera, MD, joined forces in 2006 to launch Shino Bay Cosmetic Dermatology, Plastic Surgery & Laser Institute in Fort Lauderdale, Florida, they envisioned a modern facility that would feature a full range of the latest medical cosmetic treatments. The two chose a tagline for their business: "The Future of Ageless Transformation." Then they set about creating a facility that would reflect their brand. "We wanted to offer something no one had seen before, and our philosophy is: If you want high-end patients, you have to give them a high-end experience," says Goren, who designed the facility. "We created a super modern and futuristic décor to show that everything we do is state of the art. The facility has Roche Bobois and custom-built furniture, and the entire office is digitized. Everything we do is geared toward offering a five-star experience to our patients."
Most Innovative Marketing Campaign: RGV Cosmetic Surgery & Vein Care
Aesthetic medicine is unique within health care in that it requires artistry on the part of the physician, recognition that each patient has specific, individual aesthetic goals and careful communication to ensure patient satisfaction. With this in mind, Filiberto Rodriguez, MD, launched his private practice, RGV Cosmetic Surgery & Vein Care, with a mission "to help enhance one's individuality through cosmetic surgery and vein care." He enlisted the help of advertising agency Tequila Group Marketing Solutions to get this message out to his local community. Together, they created Individuality Perfected, an integrated marketing campaign that includes television, radio, print ads, billboards, website and social media. The campaign has three components: Empowering, which features a real patient recounting her desire to look her best and let her individuality shine through; Artist, which features the training and artistic skill of Dr. Rodriguez; and Personal, which focuses specifically on patient education with the phrase, "You can talk to us."
The campaign began with local television advertising followed by a website redesign, brochures and a digital marketing campaign that includes social media marketing, blog posts, sponsored content, geo-targeting and geo-fencing. "Our practice achieved double-digit growth as a result of this campaign," says Dr. Rodriguez. "The practice has achieved positive name recognition in our community, top-of-mind awareness among consumers and increased publicity for both the practice and our doctors."
Best Branding: Beauty Bar MD at OC Dermatology
When dermatologist Lorrie Klein, MD, opened Beauty Bar MD—a skincare center adjacent to her private practice, OC Dermatology—she wanted to create a logo that reinforced the facility's goals: To help women feel more confident and simplify their lives by providing them with just a few, great skincare products. The black and white logo prominently features the facility's name accented by black and white stripes, mirroring Beauty Bar MD's simple but elegant décor. The logo is featured on everything—from business cards and letterhead to pens, membership cards, signage, marketing materials and even postprocedure ice packs. "We wanted Beauty Bar MD to be a stand-alone product, separate from OC Dermatology," says Dr. Klein. "It's contemporary in design, and also elegant and balanced, which is how we like to think of ourselves."
Best Loyalty Program: Skiin Anti-Aging Lounge, VIP Skiinsider
One of the biggest challenges for cosmetic practitioners and medspas is the constant ebb and flow in bookings. Many patients and clients come in only on certain days or during certain months of the year, and loyalty can be hard to come by when there seems to be a provider on every corner. To keep his medspa, the Skiin Anti-Aging Lounge, booked and growing, plastic surgeon Alex Colque, MD, and his team created the VIP Skiinsider, a monthly loyalty program geared toward offering cost savings, incentivizing referrals and adding value for guests. The VIP Skiinsider Program costs $99 per month and members get: an Oxygen Infusion Facial or 90-minute Aroma Touch Massage every month; Botox at $10 per unit; $50 savings on dermal fillers; a $25 Skiin Gift Card for every membership referral; a birthday month special for 50% off up to three products; special invites and complimentary registration for educational events; and a subscription to an educational newsletter. "The Skiinsider Program aids in a strong and consistent stream of revenue coupled with a large number of standing reservations," says Dr. Colque. "With over 200 active members, the program ensures that our technicians are busy, our books are filled and our clients are happy."
[pagebreak]
Best Website: Chesapeake Vein Center and MedSpa
www.chesapeakeveinandmedspa.com
It's not easy to provide the wealth of information patients are seeking without making your website look cluttered or difficult to navigate, but Chesapeake Vein Center and MedSpa has done just that. The eye-catching images on the opening page welcome prospective patients with the medspa's logo and a call to action, followed by "Find Your Heavenly Glow," which encourages patients to learn more about the range of services offered, then an invitation to peruse the current monthly specials. The last panel on the opening page is titled, "Our Thoughts on Beauty," with a link to the medspa's philosophy on cosmetic care and wellness.
The easy-to-navigate, responsive website—which can be viewed on any device—prominently features contact information for the medspa and links to its social media on every page. Also included on every page is an invitation to view videos by director, Surya Challa, MD, and a link to request a consultation. Acara Partners consulting designed the site. "Creating a strong first impression of Chesapeake Vein Center and MedSpa was vital to our design. The ultimate goal was to create a website that not only effectively worked for the company's business aspirations, but successfully filled the wants and desires of potential clients as well," says Janine Wilson of Acara. "We wanted to create a reliable experience through responsive design, optimal page speed and low page weight, as well as an eye-catching design through refined type treatments, color coordination and strong imagery with bold calls to action."
Inga Hansen is the executive editor of MedEsthetics.