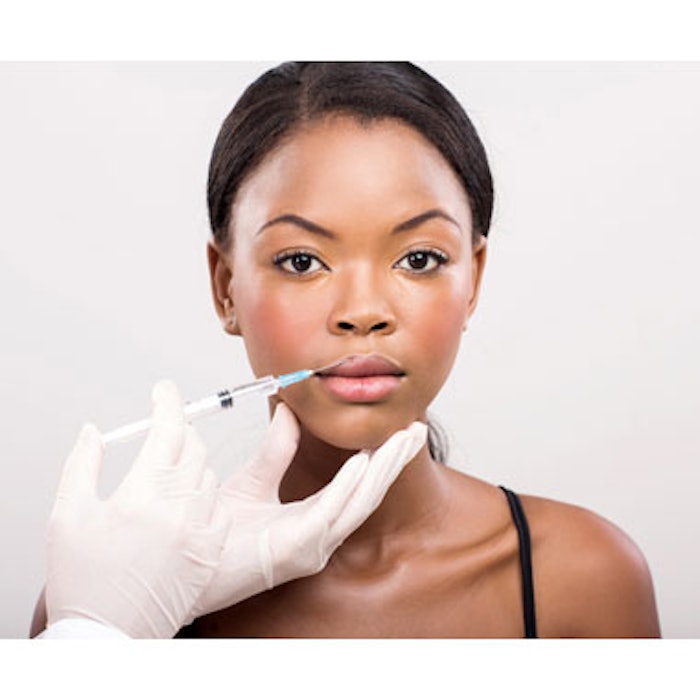 Allergan has received U.S. Food and Drug Administration (FDA) approval to market JUVÉDERM VOLBELLA XC for lip augmentation and correction of perioral rhytides in adults over the age of 21. The filler is formulated with Allergan's proprietary VYCROSS technology, which blends different molecular weights of hyaluronic acid (HA) for a longer-lasting results. It also features a lower HA concentration (15mg/mL), making it a appropriate for adding subtle volume to the lips and softening the appearance of perioral lines.
In clinical trials, JUVÉDERM VOLBELLA XC was found to effectively increase lip fullness and soften the appearance of lines around the mouth in a majority of subjects through one year. Safety and efficacy were demonstrated in several clinical trials, including the U.S. pivotal study where 168 subjects were treated with the filler. A five-point scale was used to evaluate the effectiveness of the product for lip fullness, and a four-point scale was used to evaluate the effectiveness of the product for smoothing lines around the mouth. Approximately two-thirds of subjects treated with VOLBELLA XC showed improvement in lip fullness and perioral lines through one year. Safety was observed to be similar to that of the control. The most common side effects were temporary responses at the treatment site such as swelling, tenderness, bruising, firmness lumps/bumps, redness, pain, discoloration and itching. Most of these side effects resolved within 30 days.
JUVÉDERM VOLBELLA XC was first approved in Europe in 2011, and will be available to U.S. patients in October 2016. For more information, visit www.juvederm.com.
Photo copyright Getty Images.