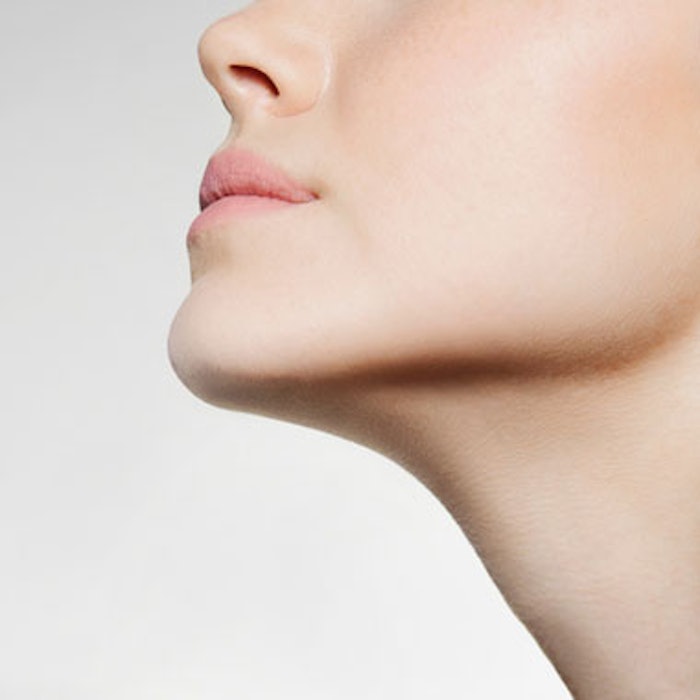 Researchers Matteo Tretti Clementoni, MD, and Girish S. Munavalli, MD, designed a pilot study to assess the efficacy of fractional high-intensity focused radiofrequency (HiFR) with insulated microneedles for skin laxity of the lower face and neck.
They enrolled 33 participants (seven men and 26 women, ages 37-74) with mild to moderate skin laxity of the lower face/neck. Three treatments were given at monthly intervals with three passes per session, at decreasing dermal depths for each pass. Histologic assessment of skin immediately after treatment was performed to identify the site and area of damage in the dermis. Clinical digital photography was taken at baseline and at six months after the final treatment session, based on which standardized computer measurement of improvement in the gnathion and cervicomental angles was the primary objective evaluation. Blinded assessors graded the global assessment of improvement based on the photography. A telephone survey of patient satisfaction was performed 12 months after treatment.
There was a significant post-treatment decrease in the cervicomental and gnathion angles: 28.5° and 16.6°, respectively (p  <  0.0001 for both). Histology immediately post-treatment showed a clear demarcated and roughly oval area of coagulation associated with the tip of the needle, confined to the dermis and not involving the epidermis. In the global assessment, 81.8% of the patients achieved moderate or higher results, and 87% were very satisfied or better. Downtime was minimal, lasting three to four days, and no persistent adverse events were recorded.
The study was published in Lasers in Surgery and Medicine (July 2016).
Photo copyright Getty Images.