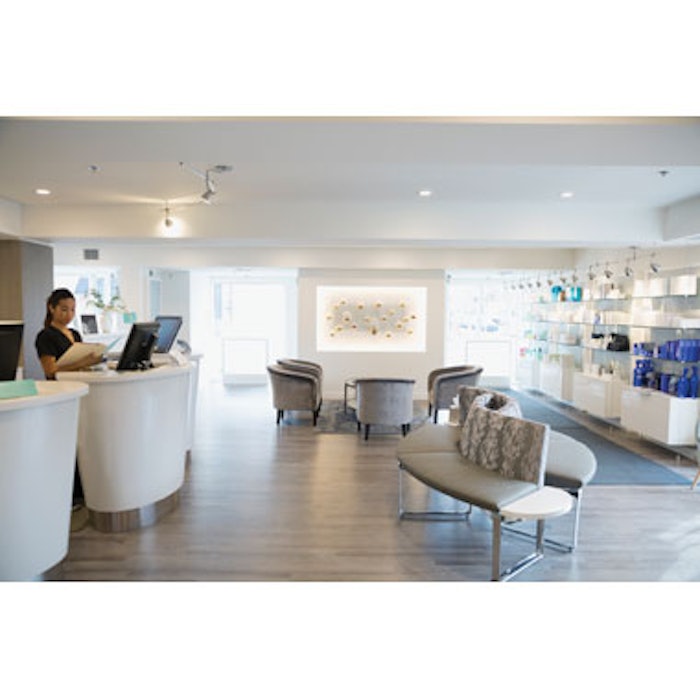 Practices and medspas spend a great deal of time and money reaching out to prospective patients through Internet marketing and local print, radio and television advertising. But in-house marketing is, by far, the fastest, cheapest and most effective way to grow a cosmetic practice.
By promoting your skills and services to a captive in-house audience, you can increase the lifetime value of each patient and attract new patients through word-of-mouth referrals without spending a fortune on mass marketing efforts. Opportunities for in-house marketing present themselves at every step of patient care, beginning with the consultation.
Trust-Building Opportunities
As providers well know, a booked consultation is not a booked procedure. Prospective patients who come into your practice or medspa must feel comfortable enough with you and your staff to share their concerns. Then, they must be convinced that you are the right provider to address these concerns.
You can increase their level of confidence by displaying subtle brag pieces that will build your credibility with the prospective patient. Post a "Meet the Doctor" introduction in your reception area and treatment rooms that includes a photo of the provider(s) as well as career and education highlights. To help patients connect with the provider personally, add photos and a short paragraph about family, pets or hobbies.
Practices can expand on this by creating a "brag wall" that includes the provider's professionally framed degrees, certificates and awards, as well as photos of providers with happy patients and/or industry leaders and local celebrities. Keep in mind, celebrity doesn't always mean Hollywood—it could be a high profile person in your own community.
Waiting room video loops are another inexpensive and effective way to build trust with prospective patients. They also help introduce existing patients to your full range of offerings. Set up a large flat-screen television in your reception area and run videos on a continuous loop. You can film these yourself or hire a professional videographer from your local community. Manufacturers can also provide video content on specific devices or procedures.
Your first video should be the provider welcoming patients to the office. Tell them about yourself—your professional background and goals—and the unique attributes of your practice, including your patient care philosophies. The introduction video should be short—about two to four minutes. The goal is to give prospective patients a clearer understanding of who you are and what you can help them achieve.
Following the introduction, offer one- to three-minute videos on each of the procedures available in your practice and the concerns you are trained to address. Describe the procedures in your own words. You may also include video of the treatment being performed or testimonials from satisfied patients.
When filming testimonials, ask patients to tell their own personal stories about what brought them to your practice, their results and why they chose you. Remember that waiting patients only want to see this presentation once or twice. So you can use the length of the video to determine wait times. If the entire presentation is brief, add a silent PowerPoint presentation at the end with several before and after photos.
Photo copyright Getty Images.
[pagebreak]
Patient Education
Did you know that many patients see one provider for their fillers and toxins, and another for laser procedures? Why? Oftentimes, these patients don't know that the doctor who performs their injections also offers laser treatments. This is why it's important to view your reception area and exam rooms as learning centers.
Start by cross-promoting all of your cosmetic services. Have your receptionist hand a practice brochure to new patients when they enter, so they can read up on your services while they are waiting for their appointments. Display a simple box-framed menu of practice offerings on the front desk, on the tables in your reception area and in each exam room.
Your menu of services should mirror the branding of your practice, which includes your logo and your own unique blend of colors, graphics and copy font, so patients get a sense of who you are and what you value. You can also display vendor brochures to highlight new procedures, but these are less effective as they don't promote your specific practice.
In addition to your menu, post signage that includes the phrase, "Have a question? Ask us!" And make sure that all staff members are able to answer simple FAQs about your services.
Other in-house educational tools include before and after photo albums and testimonial albums. Make sure your before and after galleries contain a variety of patient demographics, such as age, gender and ethnicity so that prospective patients can identify with them. Testimonial albums may include thank you cards, patient surveys and complimentary email messages you've received from happy patients.
Here is an incredibly simple idea that can reap huge rewards for you: mirrors. Having full-body and hand mirrors in your exam rooms encourages patients to look at themselves and point out concerns, which is a great starting point for discussion.
Optimizing Checkout
Checkout is often an area of missed opportunity for cosmetic practices. It is not just a time for patients to pay for their day's services; checkout is also an opportunity to help them find retail homecare products, book follow-up appointments, and open the door for referrals and online reviews. When it comes to in-house marketing, there are four objectives of checkout: Return, Refer, Retail and Review.
Return: When can we see you again? Never let a cosmetic patient walk out the door without booking the next treatment. There's a good chance they have every intention of returning for their next laser, facial or injectable treatment, but life (and your competitors) can get in the way. For example, if you normally perform toxin injections every six months, train staff to ask patients if they would like to book their next appointment now.
Refer: Do you have any friends who are interested in looking great? Turn your appointment cards into networking cards, so when patients book their next appointments they are also encouraged to share your information with friends and family. List your services on the back of the card and include the words, "Please tell your friends about us." Staff should hand the cards to the patients directly and tell them that referrals are appreciated.
You can also include a stack of referral cards on the front desk next to a display that reads, "If you are happy with your services, please tell a friend."
Photo copyright Getty Images.
[pagebreak]
Retail: Do you need to stock up on your homecare products? A great way to help patients achieve their aesthetic goals and increase retail sales is to ask the patient at checkout if they need any homecare products. If the provider has made a recommendation, this should be shared with the front desk staff or retail coordinator so they can help the patient find the correct products. If there is no recommendation, your staff can point to your retail product display and ask, "Do you need a refill on your products?"
Gift certificates are also a great "add on" for the patient who is checking out, and a powerful referral tool. Display a cute practice bag with your logo on it and a gift card with tissue paper inside. Right above or next to the bag, post a laminated or boxed sign that says, "Need a quick gift?"
The busy aesthetic patient will appreciate the convenience, the recipient will appreciate the uniqueness of the gift and you will gain a new patient. It's a win-win for everyone.
Review: Have something nice to share about your experience? Online patient reviews have become more important than ever, so be proactive. Ask your patients if they would be willing to do you a favor and post their experiences online. You can make it easy for them to do so by including a flyer at the front desk or in their retail bag that says, "Were you happy with our services? Please share your feedback online." Then provide easy step-by-step instructions on how to post reviews on the most popular sites.
Utilize Your Exterior
If your facility is located in a heavy foot-traffic area or high-rise building, be sure to use sandwich boards on the sidewalks so patients can find your practice. This doubles as a marketing tool for those just passing by. If your practice is located in a multi-office building, use signage in the lobby so anyone waiting for the elevator will know how to find your practice and what you offer.
Comprehensive in-house marketing helps to build trust, educate patients, cross-promote your services and build referrals—all of which can help you dramatically increase your patient base and practice revenue. So before you invest a large sum of money for a new advertising venture, take a look around your facility and see if you are missing any valuable opportunities to promote your practice among its most likely demographic and most dedicated audience—existing patients.
Catherine Maley, president of Cosmetic Image Marketing, is a cosmetic patient attraction marketing strategist, speaker, author and consultant. Contact her at 877.339.8833, www.cosmeticimagemarketing.com.
Photo copyright Getty Images.