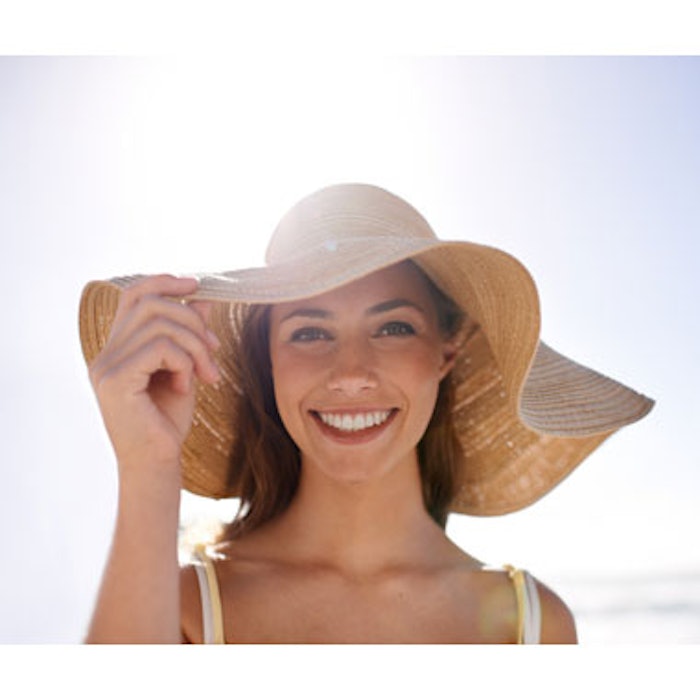 La Roche-Posay is introducing My UV Patch, a stretchable skin sensor designed to monitor UV radiation in real time to further educate the public about their personal sun exposure.
The water and sweat-resistant patch can be used up to three days during all outdoor activities, including swimming. The transparent adhesive is approximately one square inch and 50μm thick, and stretches and adheres directly to the skin. Once exposed to UV rays, the patch will change colors, indicating the various levels of sun exposure. It factors in skin tone to measure sun exposure, and users can download the My UV Patch mobile app (available both on iOS and Android) to track their UV exposure. The patch will be available free of charge via the company's website and key physicians, who will be listed on the website, this summer.
"Together with La Roche-Posay dermatologists like myself, we share a mission to help increase sun aware behavior," said Alysa Herman, MD, a member of the teaching faculty in the department of dermatology at the University of Miami School of Medicine. "La Roche-Posay recently commissioned a global study, which surveyed 19,000 women and men and found a huge gap in consumer behavior: even though 92% were aware that unprotected sun exposure can cause health problems, only 26% of Americans protect themselves all year round, whatever the season. With the new My UV Patch, for the first time, we are leveraging technology to help individuals manage their sun exposure behavior through real-time knowledge."
For additional information, visit www.laroche-posay.us.
Photo copyright Getty Images.