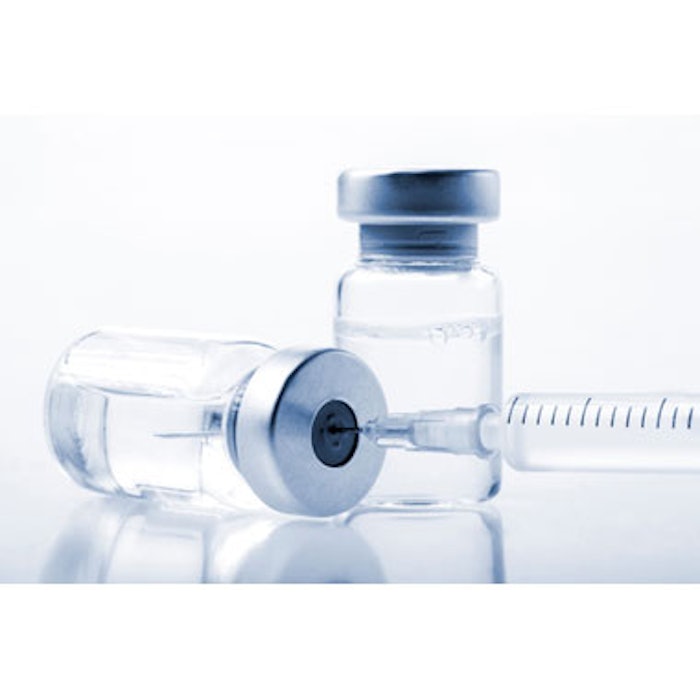 In a study published in Dermatologic Surgery (August 2016), researchers Anna Rostedt Punga, MD, PhD, et al, compared the outcomes of patients who received two different injection volumes of reconstituted abobotulinumtoxinA (Dysport, Galderma) for glabellar lines.
The randomized, parallel-group, comparative study—which included 62 treatment-naive women (ages 30-63)—was conducted at two study sites in Sweden and used two different reconstitution volumes to deliver a fixed unit dose of 10 Speywood units (sU) of abobotulinumtoxinA at either 0.05ml or 0.1ml per injection point.
Subjects received a single treatment at the baseline visit and were followed up for six months at days one, three, seven and 14, and then at months one, three, four and six. The subjects were blinded to treatment assignment and a blinded independent evaluator assessed photographs in addition to live assessment by the treating investigator.
The onset of response occurred within three days in 93.7% of subjects who received the twofold injection volume and in 76.7% of subjects who received the labeled injection volume (0.05ml). All subjects experienced a response within a week. There was no statistically significant difference between the two treatment groups in the onset of response.
Maximum results for both groups were seen at one month. Four months after treatment, 58.6% of subjects in the 0.05ml group and 67.7% of subjects in the 0.1ml volume group still had an improvement in wrinkle severity of at least 1 grade. Results lasted beyond four months for both groups. At six months after treatment, a 1-grade improvement was observed in 17.2% of subjects in the 0.05ml group and in 28.1% of the 0.1ml volume group.
The researchers note that while there were numerical differences in both onset and duration of effect between the groups, there were no statistically significant differences between the two treatment groups.
Approximately 90% of subjects were satisfied with the aesthetic outcome of treatment at one and three months. Nearly all subjects (93%-100%, between one and six months) felt the results were natural looking, and more than half of the subjects felt more attractive after the treatment. The vast majority said that they would have the treatment again (98.3% of all subjects) and that they would recommend it to someone else (96.8% of all subjects). There were no serious AEs in either treatment group throughout the study, and pain associated with the injection was very low.
Photo copyright Getty Images.