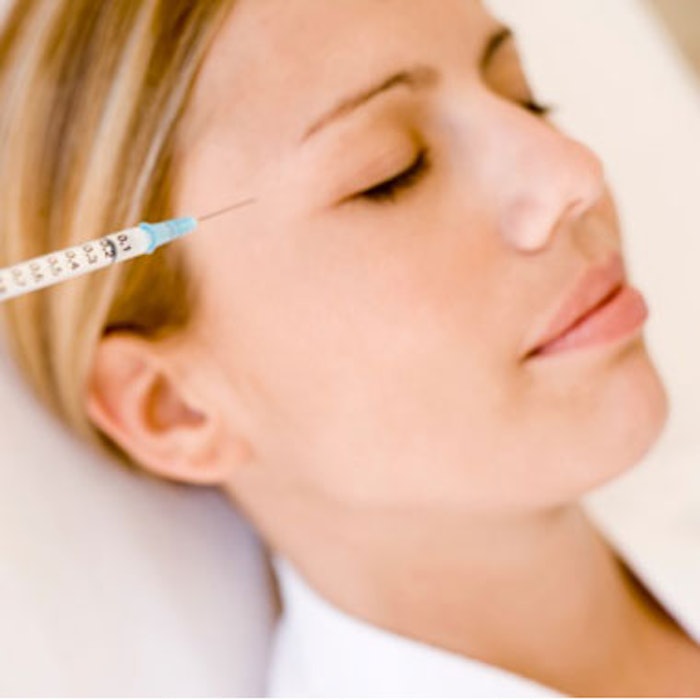 In an article published in Plastic and Reconstructive Surgery (January 2017), Jack F. Scheuer III, MD, et al, outline general principles and safe practices for ensuring increased safety and better outcomes when administering facial filler injections. They posit that practitioners can tailor injection techniques to prevent vessel injury and avoid cannulation by considering the depth and the location of the vasculature within six "facial danger zones," i.e., brows/glabella, temporal region, infraorbital area, lips/commissure, nasolabial folds and nose. An accompanying video, illustrating intra-arterial and intravenous latex injections performed on a male cadaver head, is available in the "Related Videos" section of the full-text article or, for Ovid users, at http://links.lww.com/PRS/B963.
The article includes guidance on informed consent, injection technique and syringe usage. The authors also offer a lesson on pertinent facial anatomy, including strategies for injecting safely in each of the six danger zones:
Brow and glabella area: Use a low G prime filler, injected intradermally; apply digital pressure at the supraorbital rim during injection to occlude vessels.
Temporal region: Injections in the temporal fossa should be administered in the preperiosteal plane, within a fingerbreadth of the arch and/or > 25mm above it to avoid the middle temporal vein. The authors caution against injecting at intermediate depths, as it becomes nearly impossible to discern which layer is being injected.
Infraorbital region: Inject laterally and avoid direct deep injections. Completely avoid injections more medial approaching the medial canthus; if necessary, filler can be injected laterally and pushed medially.
Lips/commissure: Injections into the upper and lower lips should be < 3mm deep, with an intermediate or low G prime filler either at the vermilion cutaneous border or within the dry vermilion. For the commissure, the authors advise superficial subcutaneous injections in a linear crosshatching fashion.
Nasolabial fold: Near the alar base, the authors recommend injecting intradermally or in the preperiosteal plane.
Nose: All lateral injections should be > 3mm above the alar groove and deep, due to the shallow nature of the vasculature in this area, and injections to the tip and dorsum should be deep in the preperichondrial and preperiosteal planes.
Photo copyright Getty Images.