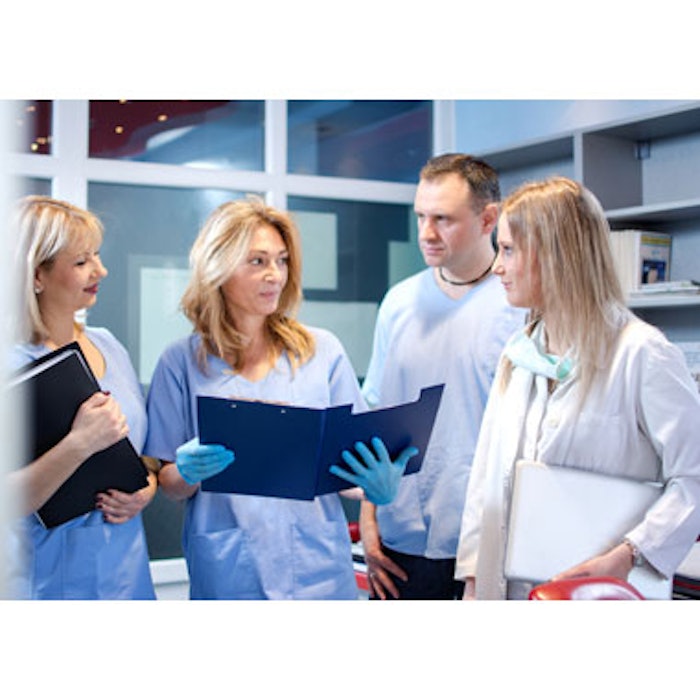 Patients of physicians with a high number of co-worker reports about unprofessional behavior are at a significantly increased risk of surgical and medical complications, according to a June 19, 2019 paper published in JAMA Surgery. The study authors recommend that healthcare organizations foster better communication and collaboration, as failing to do so could undermine their cultures of safety, threaten teamwork and increase patients' risks for adverse outcomes.
Creating a culture of cooperation and healthy communication begins by ensuring that all team members, from the physicians to the front desk staff, understand the benefits of respect and the risks of poor communication. "Teamwork is best fostered by ensuring that everyone knows their job is important to the overall practice success and patient care," says plastic surgeon Katerina Gallus, MD, co-owner of Restore SD Plastic Surgery in San Diego, California. "When staff members don't feel valued, their work will reflect that."
In addition, practices must establish protocols to recognize and address potential problems, such as reporting systems, guidelines for addressing and correcting bad behavior and regular staff check-ins to ensure all voices are heard.
Reporting Bad Behavior
Dr. Gallus has a small enough staff that she is able to address disruptive behavior at the time it occurs. After a few days, she follows up to discuss the issue further, once all parties have had time to cool off. In these situations, identifying the underlying reasons for the disruptive behavior is important. Is it a result of personal issues that are affecting the team member's behavior, or a reflection of frustration with a system that isn't working properly? Without acknowledging the context of the behavior, it is impossible to make effective changes, she says.
"Our experience is that if a team member does not feel that their concerns or suggestions are heard, it quickly becomes a problem," says Dr. Gallus. "It takes just once or twice for that team member to stop raising concerns or issues, and this can negatively impact everyone's performance and, most importantly, patient care. The staff needs to see that you are invested in the information being passed along and open to suggestions for improvement."
Elite MD in Danville, California, is a large practice with multiple satellite locations. Physician-owners Sonia Badreshia-Bansal, MD, a dermatologist, and her husband, plastic surgeon Vivek Bansal, MD, have an in-house human resources department to field employee concerns. When a report of unprofessional conduct is initiated, the HR department follows a set protocol that includes an investigation of the situation, one-on-one counseling for the staff member, and documentation of the report as well as actions taken to address the concern.
In addition to addressing problems as they arise, Dr. Gallus works with an independent practice consultant who develops job descriptions and employee manuals and also acts as a sounding board for the staff. "As a third-party consultant, she helps mediate issues and also provides an outside perspective," says Dr. Gallus. "Some of the larger manufacturers, such as Allergan, provide free consulting or assessments to practices. At larger medical society meetings, there also are practice management courses that offer resources for practice improvement, which include topics such as communication and team building. These are specific to our field and more effective than generic medical team-building courses required in the hospital-based setting."
She finds that the most important message all members of a practice must understand is that everyone benefits from practice growth and everyone can contribute or detract from growth.
Encouraging Input
Having a clear reporting system to raise concerns and address problematic behavior is integral to patient care and staff morale. But how do you prevent problems before they arise? In his busy plastic surgery practice in Beverly Hills, California, oculoplastic surgeon Christopher Zoumalan, MD, thinks of his office staff as teammates in a basketball game. "We have a lot of moving parts that need to flow well to create an optimal world-class experience for our patients," he says. "Every player has specific duties and positions. I consider myself the team captain, where I encourage accountability, good work ethics and motivation."
Regular staff meetings that foster open communication are key to maintaining this culture of teamwork. "It's important to communicate regularly with the office staff," says Dr. Zoumalan. "We conduct weekly meetings to go over any issues we have in the office and to immediately address them with a solution."
Dr. Gallus, a former Navy officer who held leadership positions the hospital setting, also holds weekly staff meetings to review the upcoming office schedule. The front desk coordinator, rather than one of the surgeons, leads the meetings to ensure that the communication is not top-down. "Daily huddles also are effective for busy clinic days to reiterate any expected hurdles that were discussed at the weekly meeting," she says.
Elite MD staff members hold daily huddles to review the schedule and discuss patient flow. Sometimes they perform twice-a-day huddles, one in the morning and one at the end of the day, to prepare for the next day. The practice also holds weekly leadership meetings to ensure management stays on track with its short-term and long-term goals for excellence in patient care and practice growth.
"Leading by example is one of the basic tenets of good leadership and team management," says Dr. Badreshia-Bansal. "Everything manifests in a top-down approach. Consistency in effective communication is necessary to breed good team habits and values in the organization."
New hires at Elite MD are introduced to the practice through its mission statement, which is regularly reviewed at staff meetings. The mission is, "Create raving fan experiences and treat every patient as family." It is based on the book Raving Fan, which all employees in leadership positions are required to read, Dr. Badreshia-Bansal says.
"Having a mission statement that everyone is on board with and understands allows for a teamwork approach while setting expectations for every member to contribute to carrying out the practice mission," she says. "Very few businesses have a mission statement, fewer medical practices have a mission statement and even fewer staff know what it is. Write it down and post it in the practice."
Hire Right
A variety of personality types can be another potential challenge within a practice, since these differences can lead to conflict, says Anthony Youn, MD, founder of Youn Plastic Surgery in Metro Detroit, Michigan, and author of Playing God: The Evolution of a Modern Surgeon. "There can also be jealousy if one employee is perceived as being favored over another," he says.
That's why it is critical to be highly selective in the hiring process, taking the time to introduce candidates to your staff, reviewing your gut feeling in addition to their qualifications, and instituting a probationary period for new hires. "I am very selective on who I bring into my practice," says Dr. Youn. "My last employee, a full-time esthetician, took me four months to find."
At his practice, new employees go through a two-month probationary period prior to being given benefits and being considered a true employee of the practice. "I ask my current employees what their experiences have been with the new employee to make sure that person is the right fit," he explains. "I also talk with my employees regularly to see if there are any concerns in general with how things are going."
Dr. Badreshia-Bansal and her husband invest in professional development courses, podcasts and academic meetings for their staff. They also assign a mentor to all new staff members. "Having a mentor and colleagues to communicate with to come up with effective strategies for creating solutions to specific problems is key to professional development and morale," she says.
If your practice wants to foster a culture of respectful communication and teamwork, it starts with the leader of the practice, notes Dr. Youn. "If the physician isn't respectful and professional, how can you expect the employees to be that way?" he asks. "I see some physicians who wash their hands of this responsibility, which is not a good thing."
Daniel Casciato is a freelance writer based in South Bend, Indiana.
Image copyright iStock.com/Bojan89