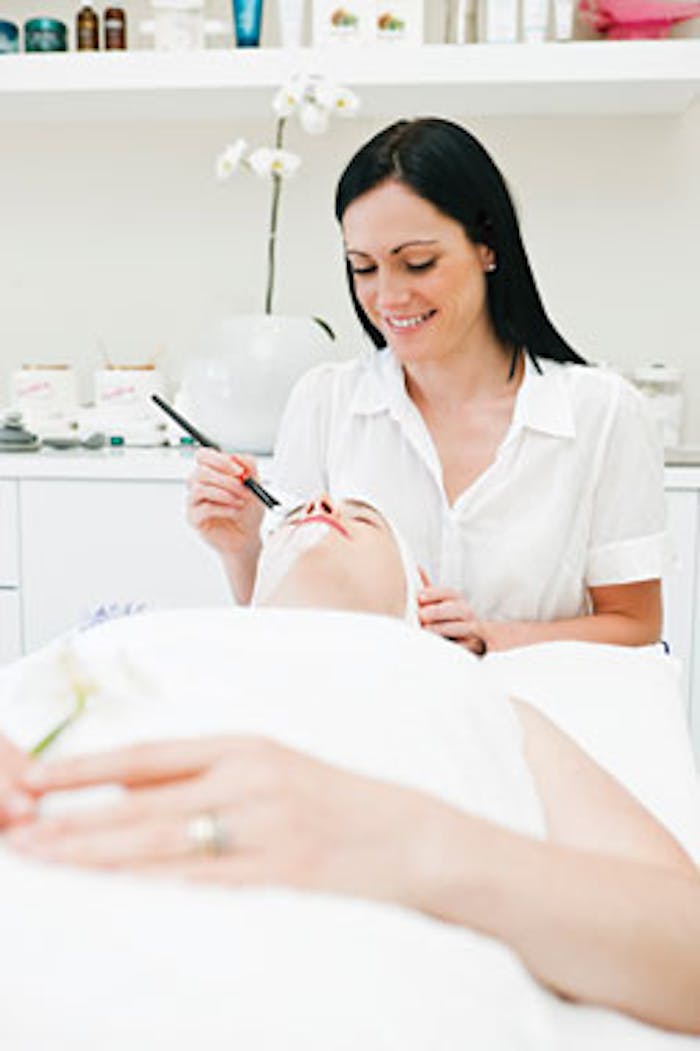 Skincare services are a natural fit for medical cosmetic practices. Hiring an esthetician to provide services, such as facials and microdermabrasion, will increase the number of times a patient enters your facility and can help prolong the results of medical procedures and increase patient satisfaction. In addition, these services—and the presence of an esthetician—can help support retail sales. "Practices need someone to educate patients on products and services and handle the retail skincare products in the practice," says Wm. Philip Werschler, MD, assistant clinical professor of medicine and dermatology, University of Washington. "And estheticians have begun to take over these roles."
© Istockphoto.com
Training and Orientation
If you are considering adding estheticians and non-medical skincare services to your practice, the first step is to determine what role the esthetician will play. "People look at dermatologists as skincare professionals; they don't want to be referred to an esthetician to talk about skin care," says Lorrie Klein, MD, president of OC Dermatology in Laguna Niguel, California. "Plastic surgeons, on the other hand, often smartly have estheticians who act as the skincare specialists and are available to answer patients' questions and discuss products. It depends on your patients' expectations and the interests of the provider. Do you want to delegate skincare questions and concerns? Or do you want to provide these services yourself?"
Though the services provided by estheticians in a medical aesthetic facility are similar to those provided in a spa, there are some key differences between the two settings. Dr. Werschler, who was one of the first dermatologists to employ estheticians in a dermatology practice, admits there were some initial challenges in integrating the two groups. "Estheticians are not medical professionals. They don't use the same vernacular, so we weren't speaking the same language. And even though we have the same end goals, the courses of our treatments are very different," he says. "Estheticians needed to raise the bar on their training, and dermatologists needed to recognize the value of esthetic services."
[pagebreak]
Esthetic training programs have responded by improving education. "They are now learning about infection control and sterile techniques, because this is where the jobs are," says Dr. Werschler.
In order to uphold your existing level of care and help create a cohesive team of medical and non-medical providers, practice owners and managers need to be aware that many of the concepts that are basic to a medical provider may not be part of an esthetician's training. All new employees in Dr. Werschler's practice—including estheticians—undergo training on HIPAA compliance, infection control and sterile techniques. "To me a medical spa is a facility that follows the same standards as a medical practice," he says. "If you're going to use the word med or medical, it is a medical facility, and you follow all HIPAA laws and infectious disease standards."
Dr. Klein runs her spa and medical practice as two separate entities. Although the spa staff does not have access to medical records, she still recommends training on HIPAA compliance and patient privacy. "If the esthetician is working within the medical practice, she must be HIPAA-trained," she says. "And this is done annually."
Dr. Klein also recommends having new estheticians shadow the medical professional for a day to gain a better understanding of the terminology used by medical staff and the range of procedures offered. "The patients they are seeing have either undergone these procedures or they are curious about them, and they will ask questions," she says.
Bruce Katz, MD, director of Juva Skin & Laser & MediSpa, New York, highlights the need for advanced on-site training. "Like with waxing, don't double-dip after the stick has been used on the patient, always wear gloves when touching patients," he says. "Depending on what devices they'll be using, they may need training on microdermabrasion, radiofrequency or lasers, depending on your state."
His practice is also strict about documenting treatments, something many estheticians have not been trained to do. "They need to document the treatment performed, the device settings used—a lot of spa personnel don't write all of that down. You also need to make sure your estheticians are using the proper templates and getting proper consent. There's a lot more structure in a medical practice than in a typical spa," he says.
Standardized treatments may also be new to estheticians who have previously worked either on their own or in a setting that allowed them more freedom to perform their own treatments. "We standardize protocols so the patient is always getting the same treatment, regardless of who performs it," says Dr. Katz. "And we use questionnaires to get feedback from patients—we give the patient a small gift for filling it out—and we do this on both the medical and medispa side to make sure protocols are being followed. Being consistent is important."
–Inga Hansen
[pagebreak]
Promoting Skincare Services
Dermatology and plastic surgery practices are at a distinct advantage when it comes to introducing and promoting skincare services. "People who come into these practices have an interest in appearance," says Dr. Werschler. "They may come in for hair loss, but they are already open to things like facials and hair removal."
When he first brought estheticians into his practice, he focused primarily on internal marketing. "We used table-top tents to introduce our esthetician and put flyers at the front desk. We put flyers into the bills, back then the billing was still in envelopes," he says.
Dr. Klein sends out eblasts to her mailing list every month with one spa special and one medical practice special. "And they come from me, Lorrie Klein, MD. We also mention the spa in our blog and on our Facebook page," she says.
The day spa is located within the same building as her dermatology practice. "When patients enter the practice they come through the spa to enter the dermatology section, and when they exit, they walk by a board with spa specials," she says.
Additional avenues to promote esthetic services include offering mini-facials and product giveaways as part of open house events and posting monthly specials on skincare kits in your retail section, according to Cheryl Whitman, CEO of Beautiful Forever Medical Spa Consulting (beautifulforever.com).
There are two strategies used to incorporate esthetic services in cosmetic practices. Some doctors hire estheticians as employees to work within the medical facility. In these cases, Whitman recommends building esthetic services and postprocedure care products into your pricing for surgical and laser procedures. This not only helps to improve outcomes, it introduces patients to homecare regimens.
Other physicians have created separate spa facilities in which these services are offered. Even if a practice organizes its skincare services as a separate business, Dr. Werschler advises physicians to hold spa personnel to the same standards as medical professionals. "Don't treat esthetics as a separate business. You need to make a commitment. Treat it as a medical practice, and hold all employees to the same standards," he says. "The estheticians and other non-medical personnel must view themselves as medical providers in that they cannot gossip about one patient to the next patient, and they must respect all infectious control standards. You do not want to do anything to cheapen the level of service."
Though Dr. Klein launched her spa as a separate corporate entity, she cautions doctors against building out a separate spa business right away. "Start by hiring one or two estheticians to work in the practice and see how that goes before adding a separate spa," she says. "Spas have a lot of overhead, and they are not money-makers compared to a dermatology practice."
–Inga Hansen
[pagebreak]
When interviewing estheticians, it's important to understand your state's licensing structure. Skincare professionals may have one of three licensing designations: esthetician, master esthetician or cosmetologist. "In our state, cosmetologist is the top license, manicurist is the lowest and esthetician is in the middle, so a cosmetologist is trained to do everything—hair, skin and nails," says Dr. Werschler. "In most states estheticians are under the department of licensing, not the department of health, because it is a business license. More recently, some departments of health are allowing estheticians to get licensed."
More than 30 states offer two types of licenses for skincare service providers: cosmetologist and esthetician. On average, the cosmetology licensing program contains anywhere from 70 to 250 hours of actual skincare training. The average esthetician curriculum in the United States calls for 600 hours of training, according to the National Coalition of Estheticians, Manufacturers/Distributors & Associations (NCEA, ncea.tv), and covers the following fundamentals:
Disinfection and infection control
Human physiology and anatomy
Skin histology
Skin diseases and disorders
Hair and its growth cycle
Basic chemistry
Cosmetic ingredients
Factors that affect the skin
Skin analysis and procedures related to consultation, documentation and treatment
Cleansing procedures
Towel steaming procedures
Exfoliation methods
Safe and proper methods of
extractions
Massage movements and their effects
Contraindications for massage
Masks
Electricity and use of electrical
equipment
Methods of hair removal
Color theory and makeup application
Advanced sciences
Scope of practice/regulatory rules
To research the requirements for your state, visit your state regulatory board or department of licensing website and look for the "Candidate Information Bulletin" (CIB). A bulletin of this type is provided to estheticians who are waiting to sit for their state licensing exam and should outline the testing criteria and the breakdown of subject matter on which the licensing exam is based.
[pagebreak]
Advanced Certifications
There are currently five territories that have increased the hours of esthetician training to 1,200 hours or more: Utah, Alabama, Virginia, Washington and the District of Columbia. These states are using the licensing terms, "Master Esthetician or Master Esthetician Manager." Several other states require from 750 to 1,000 hours of training. But there are still seven states that require less than 600 hours of training, and Connecticut has no esthetician license whatsoever, according to the National Interstate Council of State Boards of Cosmetology.
Other organizations have also set standards for their respective specialties including the Society of Plastic Surgical SkinCare Specialists (spsscs.org) and the Society of Dermatology SkinCare Specialists (sdss.tv).
For clarification: There is no license anywhere in the United States for a "Medical Esthetician," "Clinical Esthetician" or "Paramedical Esthetician." In fact, some states are cracking down
on estheticians advertising their services with any title other than their state-issued licensing title.
–Susanne S. Warfield