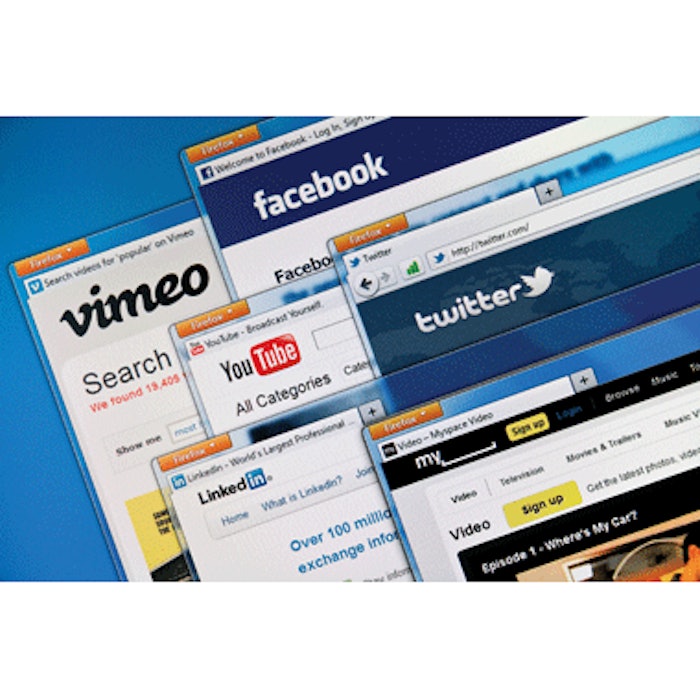 Practices that are questioning the value of social media marketing may want to consider the following numbers. In October 2012, Facebook topped 1 billion users with 600 million mobile users. Twitter has 140 million users with an average of 125 followers each. Pinterest, now the third largest social media channel in the United States, boasts a membership that is 60% female. According to a 2011 study by Beyond (bynd.com), a digital marketing and market research firm, more than 60% of consumers report that they are willing to post on Facebook about products, services and deals that they purchased.
The fact is: Social media has become a daily part of most Americans' lives, and it offers a unique platform for practice marketing. Not only can businesses promote their offerings on these sites, they can engage patients and prospective patients in two-way conversations while gaining insight into their interests.
A successful social media marketing strategy requires an understanding of the basic mechanisms of social media sites. This includes how to develop objectives and measure key metrics that will allow practices to fine-tune their strategies and evaluate the success of their campaigns.
Understanding the Big Three
While all social media sites offer similar formats that allow you to list your practice and build followers, each also offers its own unique characteristics and business-building tools. The enormous growth of Facebook, similar to the growth of the Internet at large, demands that medical cosmetic practices now create a Facebook business page in addition to a website.
Image copyright iStockphoto.com
[pagebreak]
Your practice's Facebook page should include an attractive, professional-looking custom timeline photo—consistent with your image and brand—that will act as your Facebook page "cover." Facebook has strict timeline cover rules. The size is 850 x 315 pixels, and the image may not include your website address or any promotional or advertising messages. The site uses an algorithm called EdgeRank. If users interact with your posts, the posts will show up in their newsfeeds. If a user is not interacting with your posts, they will drop from that user's newsfeed. Therefore, content is king.
To make the most of this medium, practices should post three to five times per day. Plan a mix of engaging content, including blog posts, informational articles, tips, quotes, polls or contests, videos and re-posts from other sites. Facebook also allows you to promote special events and invite followers to the events.
Through the administrator panel, which appears to the right of your timeline cover, you can view analytics that show you how many people are seeing your posts as well as their level of engagement (i.e. how many comments and shares have occurred). Pay attention to the posts that receive the most activity. You will learn your audiences' habits, likes and dislikes, which will assist you in your marketing strategy. You can also determine which posting days and times result in the most views and shares, helping you fine-tune your posting activity.
Businesses can customize the links to their Facebook pages by logging onto facebook.com/username. There are also several ancillary providers who can help you delve deeper into the power of Facebook. For example, ShortStack.com allows you to create custom apps. ConstantContact.com and MailChimp.com can help you create contests for your Facebook followers.
Twitter is a great platform to engage with consumers who are interested in topics such as skin care, cosmetic surgery and health. In addition to creating your own Twitter handle—based on your practice's name or top procedures—practices can gain new followers by adding hashtags, such as #health, #beauty, #skincare and #cosmeticsurgery, to their posts. These hashtags bring you into conversations on specific subjects and can help bring you to the attention of a larger audience.
When posting to Twitter, use the 4-1-1 rule: For one self-serving tweet, you should re-tweet one relevant tweet and share four pieces of relevant content written by others.
[pagebreak]
Additional strategies for building followers on the site include following people who your competitors are following and re-tweeting relevant content posted by others. You can also find people on WeFollow.com or Twibes.com. Always follow Twitter etiquette and thank new followers for joining you as well as existing followers who re-tweet your posts.
Pinterest is unique in that it is a visual social network where users can share, curate and collect interesting photo content called Pins. Since cosmetic medicine is such a visual art and science, it is a good fit for Pinterest, which can be used to drive traffic to your website and create new leads.
Practices can create photo boards using existing content from their websites and blogs. They can also add "Pin It" buttons to their websites. The buttons bring visitors to the practice's Pinterest page, where they can view and share content. You can enhance your boards by re-pinning other users' pins. You can also showcase the lifestyles your practice promotes by creating boards, such as "Quotes to Live By" or "Beautiful Faces."
Paid Advertising Options
As social media has grown, it has also looked at new ways to generate income. One of those tools is the use of paid advertising and promoted posts or tweets. Facebook ads can be extremely powerful because they allow you to target very specific fans with precise interests in cosmetic surgery, breast implants, Botox Cosmetic, skincare, liposuction, etc. You don't need a huge ad budget to be successful on Facebook. The first step is to determine your goals for a Facebook ad and then determine an ad budget. How much is a new "like" worth? A new lead? A new patient? Laser-focus your ad with a precise interest or procedure and a targeted location and/or demographic. You can set a maximum expenditure for your ads. You will know if your ad is performing well after 20 clicks. Then you can re-evalute and tweak your ad. Your Facebook analytic page is a good place to see increased activity, including likes, shares and spikes in patient leads. Metrics here are an important part of planning. Don't waste money on weak ads.
[pagebreak]
Managing Social Media
Social media changes frequently. But you can make it work for your practice by staying current with the trends and allocating resources to train existing staff on how to maintain your social media presence. Practices may benefit from hiring a consultant either to manage its social media marketing or to come in on a short-term basis and train staff members.
Because social media is about real-time response and continual updating, it requires commitment and dedication. Encourage your staff to use social media marketing for lead generation and to build patient loyalty. The most efficient way to do this is to set up an in-house social media team (or delegate individual employees) to plan, contribute and manage content.
Develop clear goals for every social media initiative. If you are running a dermal filler promotion, for example, how many users do you want to attract? If you are organizing an open house, who are your target attendees?
Creating a six-month social media calendar as part of your overall marketing plan can help you stay on track and enables you to monitor your results. A calendar would include the type of content you plan to post and promote, how many times you will post a day and to what channels, and which campaigns will include paid advertising.
Once your social media pages are up and running, make sure you are monitoring your pages periodically throughout the day. By monitoring your pages you can quickly respond to any questions and comments, which goes a long way in creating ongoing patient loyalty.
A common complaint is that social media is too time consuming or that its return on investment is difficult to measure. Management tools such as HootSuite.com, VerticalResponse.com and SproutSocial.com can help by combining all of your social media pages onto one dashboard that allows you track analytics and create and schedule posts in advance.
Social media has become a vital tool for the growth and success of medical aesthetic practices. Taking the time to learn how to leverage this media can pay dividends in new patient leads and increased patient loyalty.
Michele Garber is the principle of Aesthetics Media Group, a marketing and social media consulting firm specializing in aesthetic marketing, social media training and practice management. She is also the founder of The Nip Tuck Coach, an independent cosmetic surgery consulting group. Contact Michele at mgarber@aestheticsmediagroup.com or facebook.com/AestheticsMediaGroup.