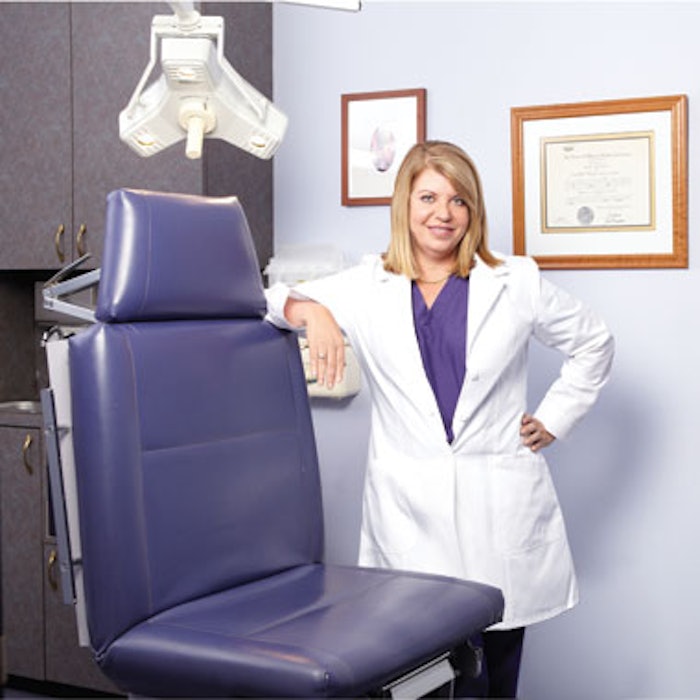 Situated in the scenic, southern California town of Laguna Niguel, overlooking the Pacific Ocean, is OC Dermatology and Euro Day Spa, home to one of the country's top Botox Cosmetic and dermal filler injectors. Lorrie Klein, MD, founder of OC Dermatology, entered dermatology in 1989, several years before Botox and fillers became de rigeur among Southern California's affluent citizens.
"It is amazing how it has grown," she says. "It started with some collagen and lasers, but cosmetic procedures were a very small part of my practice. Now it makes up 70% of my practice, and the main crossover point was Botox. It created this whole new, huge field. I don't think the term cosmetic dermatology was even used before that."
Dr. Klein's parents stressed to her the importance of education, though neither had finished high school. Her mother immigrated to the United States from Belguim to escape Hitler's invasion prior to World War II. Her father—the son of European immigrants—grew up in New York City during the Great Depression. "My parents encouraged me to strive to be successful in whatever I chose to be," she says. "They wanted me to try my hardest and become successful, so I was very ambitious and I am very competitive, mostly with myself. I want to be the very best I can be."
A native of New Jersey, Dr. Klein attended Rutgers University and received her medical degree from the University of Medicine and Dentistry of New Jersey (UMDNJ) Robert Wood Johnson Medical School. She completed her internship at Jefferson Medical College in Philadelphia and residency training at the University of California, Irvine, before settling in Southern California with her husband, Frank Paul.
"I wanted to be an artist, and my parents—seeing that I was getting straight As and being typical Jewish parents—wanted me to be a doctor, so they pushed me to look into that," she says. "Both my parents' families included small business owners, so entrepreneurship is sort of a family gene."
The combination of artistic skill, academic success and entrepreneurial sensibility have proven a powerful combination for Dr. Klein. "My first office was 900 square feet and had two small rooms, and now we're huge," she says.
"We never had the intention of being a medspa."
With the the help of her husband, Dr. Klein was one of the first dermatologists to seize upon the link between dermatology, cosmetic dermatology and esthetics. The couple launched Euro Day Spa—an adjunct business to her dermatology practice—in 1999.
"My husband founded the spa with me. It was his idea," she says. "He was doing financial planning at the time and wanted to do something different. Spas were becoming popular at the time, and he thought it would be a great adjunct to my dermatology practice. We never had the intention of becoming a medspa, we wanted to do spa treatments—facials and massages—as an associated business with my dermatology."
Photograph by Cory Sorensen.
[pagebreak]
The spa business allowed Dr. Klein to get an early foothold in the arena of injectables. "Right before Botox Cosmetic got approval, we started doing Botox events at the spa. I would talk about the procedure and then treat a number of people," she says. "No one was advertising it at the time. I would promote the events in the local paper, and we had sellout crowds. The timing was perfect."
Her reputation as a top Botox Cosmetic injector—Dr. Klein is currently a black diamond level physician with Allergan as well as a trainer for both Suneva Medical and Allergan—fueled the cosmetic side of her business. "I don't know if I would have been successful as a professional artist, but I've always had a good eye and it helps me in what I do," she says.
An amateur photographer, she relies on her own sense of aesthetics and balance to offer superior results. "I don't use a lot of fancy settings in my photography, but I do have an eye for balance. I know when something looks right to me, and it's the same with patients," she says. "I might just put a little dab of filler in this cheek and a little dot in that cheek until it looks right to me. It's very hard to teach that to people, because it's a feeling. I think it's difficult to be really good at the injectables and stand out if you're not artistic"
"What appeals to me appeals to my patient base."
As new products and devices continue to enter the market, Dr. Klein looks to her own experience as a woman and consumer of cosmetic treatments to decide which technologies warrant a closer look. "I feel that what appeals to me appeals to a lot of my patient base. So if a particular treatment appeals to me, I think my patients will like it," she says. "I also keep that in mind when I'm developing my marketing programs for new treatments. I develop my own patient handouts for every procedure."
She researches new equipment through conferences, sales reps and speaking with other physicians. "I don't jump on every technology," she says. "I'm very particular. First of all, it's very expensive. I don't want to have me-too devices. I don't want devices that are not going to be marketable in my practice, and I want devices that work. But it is a challenge."
"I like to run my practice very efficiently."
OC Dermatology now includes 14 staff members and the spa has grown to a team of 18. In 2003, Dr. Klein relocated her growing practice and brought both businesses under one roof in a 5,600-square-foot facility. "I have a wonderful practice manager, Michelle, who takes care of a lot of the logistics, but I am intimately involved in both businesses," says Dr. Klein, who acts as medical director of the spa, which is run day-to-day by her husband and a spa director. "We don't do any medical treatments over there, but I am the one who determines what treatments we offer at the spa and what products we use both in the retail boutique and the facials."
Though she depends heavily on her practice manager and spa director to keep the businesses running smoothly, Dr. Klein notes that delegating responsibility while staying on top of your business operations is a delicate balance. "You can't micromanage everything, but you have to be on top of things," she says. "You need to know what is going on with your staff and you need to know what's going on with your inventory. I pay all the bills. I like to be on top of that. I like to run my practice very efficiently. I don't like to waste."
As the field has become more competitive, Dr. Klein supplements her word of mouth marketing with online media. "I have a very informative website for patients to read, and Realself.com has been phenomenal for me," she says. "I like answering questions and, because I have a review page where patients can write about their experiences, I see a lot of patients who found me online and read those reviews." She also makes a point of answering questions on specialized procedures, "like lunch-time nose jobs, that not a lot of people do," she says. "I get patients who travel to my practice from fairly far away for those specific treatments because they found me on RealSelf."
"It's not one size fits all."
For physicians who are new to the field, Dr. Klein recommends: "Don't spend all your money on devices right away—either rent them or purchase one or two to begin with," she says. "It really eats up your money and, because it's so competitive out there, you may not see the payback for a while. It's much less expensive to invest in fillers and Botox because you can buy that as needed."
She also encourages physicians to become well trained before adding new procedures. "It's not one size fits all. You can't go to a one-day or a weekend course and expect to be really good at injectables or lasers," she says. "You need to practice, practice, practice. It is an art, and if you want to be really good at it and stand out, you have to look at it as an art, not just a technique."
[pagebreak]
Though cosmetic procedures make up the bulk of her practice revenue, Dr. Klein considers medical dermatology an integral part of her work as a medical professional.
"If you're a dermatologist, you should continue to practice dermatology and not plan on just doing cosmetic procedures," she says. "I feel we owe it to our patients to provide good medical skin and dermatologic care.
If everyone went into cosmetics, there wouldn't be anyone to take care of these patients. It's also a safety net for bad economic times."
In January 2012, Dr. Klein brought on a new associate, Kathy Lee, MD, from Indianapolis. "I'm 53 and as I get older and my kids are in college and beyond, I want to have a little more freedom to travel," she says. "I have such a beautiful, fantastic practice, I want someone to continue it after I retire—though I don't plan on doing that for another 15 years or so.
"My main philosophy has been that if you take good care of your patients in any way that you can, success will come to you," she says. "Don't think of the dollar signs. Think of making your patients happy and healthy. Success will follow that naturally."
Inga Hansen is the executive editor of MedEsthetics.