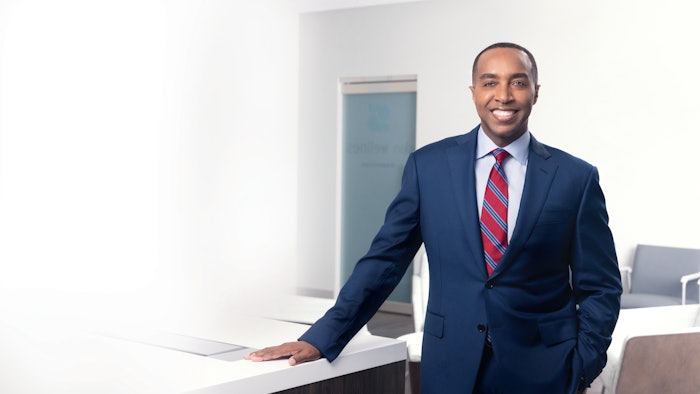 Growing up in New Orleans in the early 1980s, Corey L. Hartman, MD, owner and founder of Skin Wellness Dermatology, felt there were only two options for success: become a doctor or a lawyer. "I knew my career options were limited as a young black boy in the deep South and I wanted to be successful," he says.
His decision to pursue a career in medicine was accelerated by his neighbor, dermatologist Errol Quintal, MD, who came to be a lifeline of inspiration over the years. At the time, he was the only black dermatologist not only in New Orleans, but in the state. Dr. Hartman became intrigued by his success and started following his career. "I saw that I too, could be successful as a black man in medicine. He really inspired me to become what I am today," he says.
Dr. Hartman received his bachelor's degree in psychology from Emory University and, following in the footsteps of his mentor, chose to attend the small campus of Meharry Medical College in Nashville, where he could be "deliberate in getting what I needed to succeed." He then pursued a medical internship at Tulane University in his hometown where he reconnected with Dr. Quintal and lobbied to accompany him on his rotations. While he explored various specialties, none of them spoke to Dr. Hartman like dermatology. "Because I had an artistic side and a good eye, I saw it as the perfect field to marry science and artistry. I like the visual nature of dermatology and the ability to grow with a patient throughout their life," he says.
The Next Step
Dr. Hartman chose to do his medical residency in Birmingham at the University of Alabama with a bit of hesitancy. He wasn't sure the city was progressive enough for him and noticed that most of the other enrolled came directly from the undergraduate college. He decided to take a chance when he learned the new chairman wanted to develop a more nationally recognized program and by thinking he'd only be in the city for a short time.
As luck would have it, he soon met his future wife who lived in the same apartment building and was doing her orthodontic residency in Birmingham. Once they got married, they planned to move to New Orleans so Dr. Hartman could begin his dream of working with Dr. Quintal. That year, however, Hurricane Katrina ravaged the Gulf Coast, and the city was suffering. It was too difficult for his wife to start orthodontic work in a new state and for him to begin working in dermatology in a place where people were struggling with basic needs. Deciding to stay put turned out to be the right decision. He joined a multi-specialty group of dermatologists, which gave him the confidence and inspiration to eventually open his own practice.
In 2009, the Hartman's first child was born and Dr. Hartman opened the doors to his new practice, Skin Wellness Dermatology, with four employees. "Now, 14 years the later, Birmingham is a very different city; the people are young and vital," he says. Meanwhile, he continues to leverage his practical expertise as an adjunct clinical professor of dermatology at the University of Alabama's School of Medicine where third year medical students are mentees. He enjoys giving back this way because "I had a mentor. I want to be an inspiration to young derms and help them grow and learn how to succeed," he says.
Continue reading this month's Profile piece in our Digital Magazine...
Mara Maddox is a freelance writer and public relations specialist with a background in branding and marketing for the upscale, consumer retail market. She has contributed to the International Society of Aesthetic and Plastic Surgeons (ISAPS) as well as a variety of plastic surgery centers and the integrative aesthetics industry.