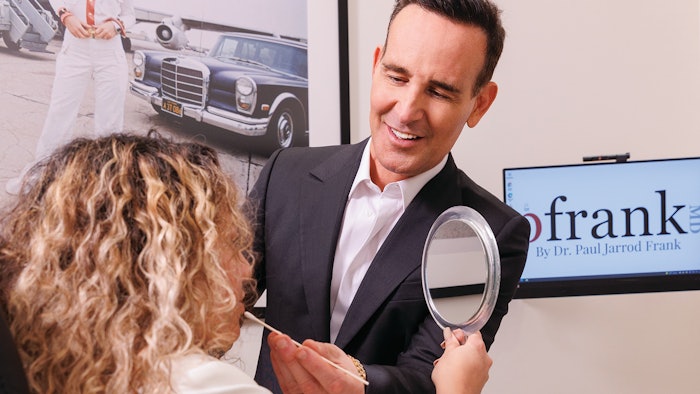 It's been more than 20 years since dermatologist Paul Jarrod Frank, MD, founded PFRANKMD in New York City. Today, his practice has grown to four locations—two offices in Manhattan, one in the Hamptons and a fourth in Miami. He is the author of two books, Turn Back the Clock without Losing Time: A Complete Guide to Quick and Easy Cosmetic Rejuvenation and The Pro-Aging Playbook: Embracing a Lifestyle of Beauty and Wellness Inside and Out, and the creator of PFRANKMD Skincare, a line of home care products for the consumer market. Most recently, he launched the "Pro-Aging Podcast," which features guests from the health, wellness and beauty industries.
Dr. Frank grew up on the Upper East Side in New York City and lived in the building that housed the offices of Norman Orentreich, MD, an early leader in the field of cosmetic dermatology and the developer of hair transplantation. "I used to wait for the school bus right in front of his place," he says.
Dr. Orentreich was not the only person who inspired Dr. Frank's interest in dermatology. In fact, Dr. Frank comes from a household of doctors, nurses and dentists. His mother was an obstetrical nurse who worked for decades in the hospital. She often referred to dermatology as a "gentlemanly profession." "She would say the dermatologists appeared to be the most rested and best-dressed physicians, which she felt was good enough for her son," says Dr. Frank. Private Practice Came Quickly
After receiving his medical degree from New York Medical College, Dr. Frank trained in internal medicine at New York's Columbia-Presbyterian Medical Center and completed his residency in dermatology at NYU Langone Medical Center in 2000.
"What really sparked my interest in dermatology was the booming aesthetic industry and the amazing technologies. Back in the '90s, we were starting to work with lasers and injectables; it was becoming more than just chemical peels and collagen," he says. "The last word for any type of topical treatment also was the dermatologist, so this really is what sparked my interest."
Continue reading to learn more about how Dr. Frank built his patient base, managed multiple locations and more...
Keith Loria is a freelance writer based in Oakton, VA.