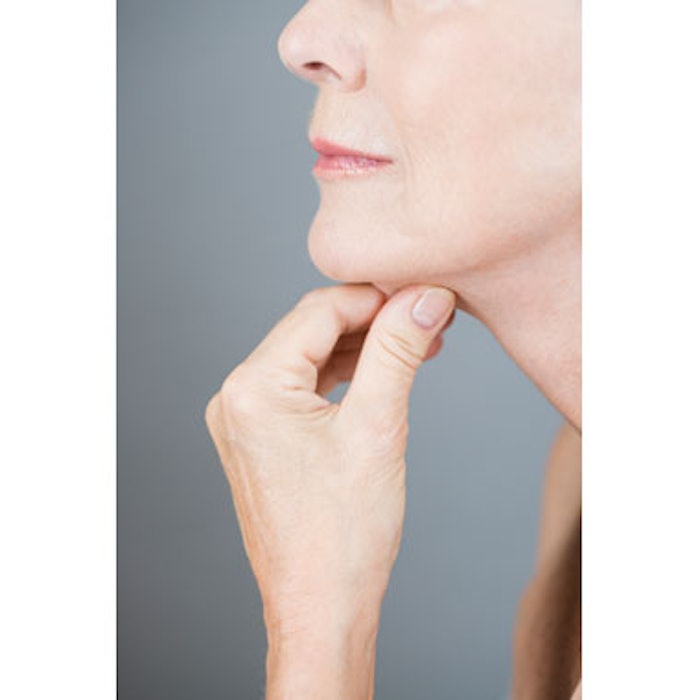 Cosmetic practitioners may soon have a new tool designed to noninvasively reduce fat available. The U.S. Food and Drug Administration's (FDA) Dermatologic and Ophthalmic Drugs Advisory Committee voted unanimously on March 9, 2015, to support the approval of KYTHERA Biopharmaceuticals' fat-burning injectable ATX-101 (deoxycholic acid), indicated to reduce submental fat (double chin) in adults. Although the FDA is not bound by the committee's vote, it will consider the recommendation as it continues its review of ATX-101. If approved by the FDA, KYTHERA anticipates launching the new injectable in the second half of 2015.
"We are pleased that the FDA advisory committee recognized the importance of providing patients with a clinically-proven treatment option specifically developed to contour submental fullness, a much-cited yet undertreated facial aesthetic complaint," said Frederick C. Beddingfield, III, MD, PhD, chief medical officer, KYTHERA Biopharmaceuticals. "We look forward to working with the FDA as they continue their review of ATX-101 with the goal of providing patients with the first and only approved non-surgical treatment for submental fullness."
ATX-101 is a patented formulation of a pure, non-animal derived version of deoxycholic acid, a naturally occurring molecule in the body that aids in the breakdown of dietary fat. It has been the subject of 19 clinical studies involving more than 2,600 patients covering a span of ages (19-65) and BMI (18-40). A New Drug Application (NDA) was submitted to the U.S. Food and Drug Administration (FDA) in May 2014 and has a Prescription Drug User Fee Act (PDUFA) action date of May 13, 2015. Additionally, KYTHERA has submitted regulatory filings in Canada, Switzerland and Australia.
Image copyright Getty Images