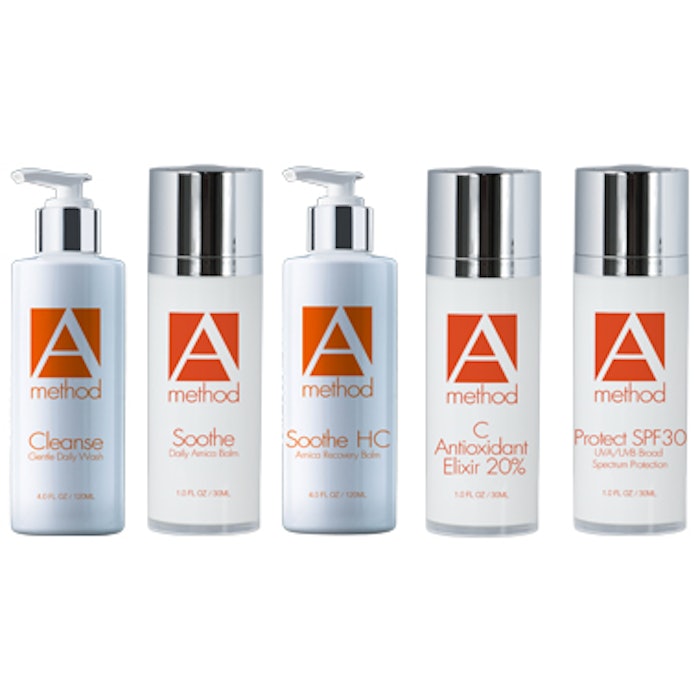 Dermatologist and laser expert Tina Alster, MD, has developed a new line of topical skincare products under the brand "The A Method." The line includes both daily use skincare products and pre- and postprocedure products formulated to reduce inflammation, erythema and itching.
Cleanse Gentle Daily Cleanser is a creamy, hydrating cleanser rich in glycerin, hyaluronic acid and avocado oil. C Antioxidant Elixir 20% protects and brightens skin with lipid-soluble vitamin C. Protect SPF 30 is a 100% mineral sunscreen blended with antioxidants that offers broad-spectrum UV protection.
Formulated specifically for postprocedure skin, Soothe HC Arnica Recovery Balm features both arnica and 1% hydrocortisone to reduce swelling, discomfort and bruising following noninvasive cosmetic procedures, while Soothe Daily Arnica Balm combines arnica and coconut milk to minimize minor irritation and improve skin hydration.
The products are offered individually as well as in a three-product pre- and postprocedure kit that includes Cleanse, Soothe HC and Soothe. For more information, visit www.theamethod.com.