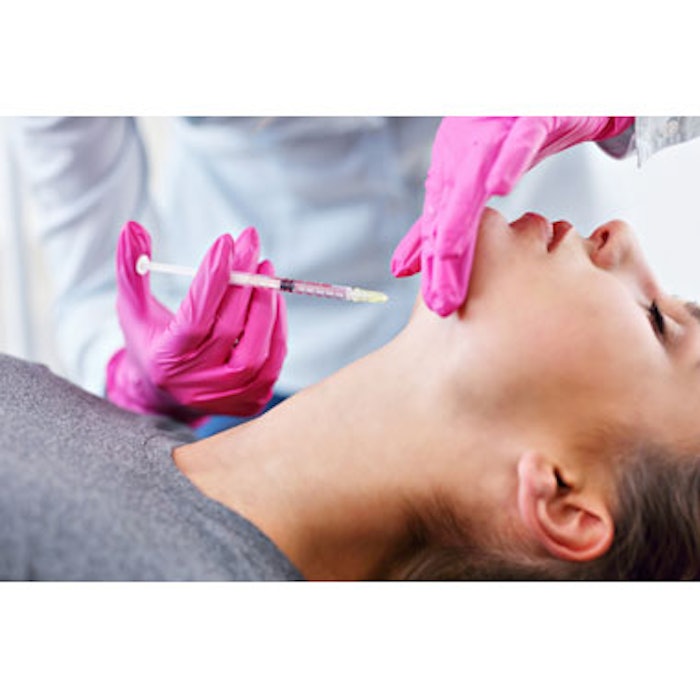 A global panel of 14 aesthetic physicians convened to review off-label use of diluted and hyperdiluted calcium hydroxylapatite (CaHA, Radiesse) for skin laxity on the face and body and develop best practice recommendations. The panel reviewed the literature and their own experiences and found strong evidence for neocollagenesis and neoelastogenesis following injection of diluted (1:1) and hyperdiluted (1:2 or greater) CaHA with the most promising outcomes occurring in the decolletage.
Their preparation guidelines recommend at least 20 passes between syringes to ensure product homogeneity and immediate injection as the product separates quickly. Due to the fast separation, the consensus panel recommends that the injector perform the dilution rather than a nurse practitioner or assistant.
When examining specific areas of injections, their treatment guidelines include:
Face. Diluted ratio of 1:1 is recommended with diluted product injected in the immediate subdermal plane and fanned across the cheeks and jawline to improve laxity in the mid- and lower face. They offer no recommendations for use in the temple or forehead.
Neck and Decolletage. Hyperdiluted CaHA (1:2 to 1:4) effectively tightens skin in the neck for individuals with mild laxity. In the decolletage, they recommend hyperdiluted CaHA (1:2 to 1:3) for the correction of mild laxity and photodamage.
Upper Arms. Subdermal injections of hyperdiluted CaHA (1:2) injections can significantly increase dermal thickness and elasticity offering good outcomes for patients with mild laxity and/or thin, atrophic skin in the upper arms. They note that the best outcomes are seen in patients younger than 50 years.
Cellulite. The panel recommends subdermal injection of diluted CaHA (1:1) using a vector-fanning approach. Injecting the CaHA immediately after treatment with MFU-V (Ultherapy) offers significant improvement in the appearance of cellulite.
The full guidelines are published in Dermatologic Surgery (November 2018).
Image copyright Getty Images.